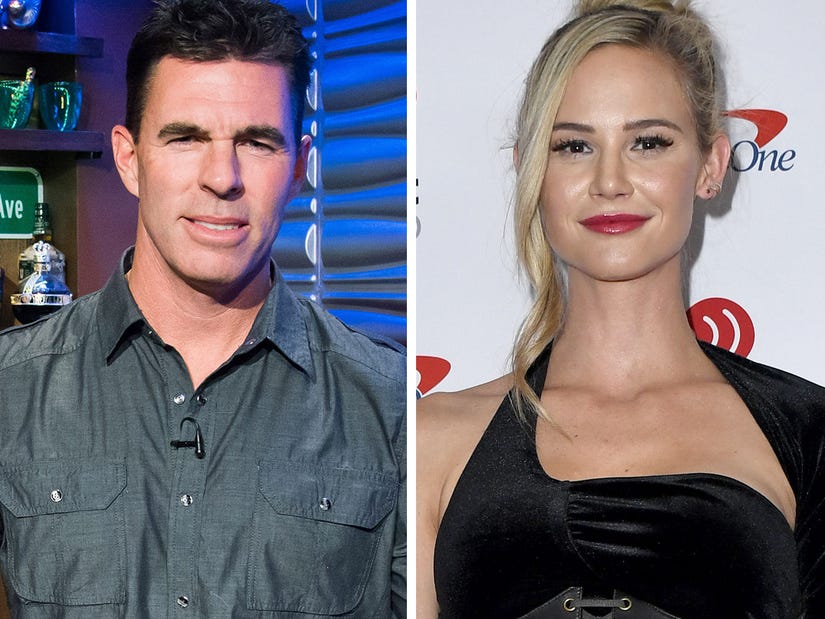 Getty
"It's just little jabs ... It's been nonstop for three years, and it's so f---ing annoying."
Three years after his split from Meghan King, Jim Edmonds is sharing his side of all the nasty drama between him and his ex-wife.
While appearing on the Hollywood Raw podcast alongside wife Kortnie O'Connor on Wednesday, the former MLB star addressed the series of accusations and claims Meghan has made against him since their split, slamming his ex over what he describes as "three years of just straight lies."
Edmonds, 52, and King, 38, tied the knot in 2015, and split in 2019 following two scandals. The former couple -- whose divorce was finalized in 2021 -- shares three children: daughter Aspen, 6, and twin sons Hart and Hayes, 4.
During his podcast interview, Jim first responded to Meghan's claim that he married Kortnie on King's birthday last September. The former "Real Housewives of Orange County" star's birthday is on September 26, while Edmonds said he and O'Connor tied the knot on the 25th.
"I don't know if the truth has come out of [King's] mouth since her and I have been together," Jim told "Hollywood Raw" podcast hosts Dax Holt and Adam Glyn. "So, I can give you an entire list and if not all three years of just straight lies."
"I don't even know where that came from," he continued of the wedding day rumor. "I didn't even know that was existing until we got home two or three weeks later."
Edmonds later added, "It's just little jabs like that. It's been nonstop for three years, and it's so f---ng annoying."
The sports broadcaster also weighed in on the temporary restraining order Meghan had filed against him last June.
According to TMZ, in the TRO, King claimed Edmonds had been verbally abusing her through text messaging and on their co-parenting app, Family Wizard, calling Edmonds' alleged behavior "frequent and consistent verbal abuse." She dropped the order three months after obtaining it.
When asked about the temporary restraining order, Jim said, "It was a protection order, which actually is totally different." Kortnie, meanwhile, claimed, "It was never served to us. No one ever came here. Three months later. We've had the kids, we've seen her, she's been at the house. Like what?"
Edmonds added, "When my lawyer got ahold of the paperwork, it was said, it was written by a child's handwriting, basically. Like she filled the whole thing out herself and sent it into the police station. So who, god knows what's going on."
Elsewhere in the interview, Jim addressed the infamous sexting and nanny scandals that ultimately led to the end of his marriage to Meghan.
If you need a refresher, the drama began in June 2019 after King claimed she found out that Edmonds was sexting a well-known MLB "madame" throughout her second pregnancy, including on the day she gave birth to their boys. Though Jim denied having a physical relationship with the woman, he publicly apologized to Meghan and the couple was seemingly working on their marriage.
Then, four months later, in October 2019, Edmonds was accused of having an affair with their nanny, Carly. He denied the allegations, while King continued to accuse him of infidelity. Jim filed for divorce, and their split became messy, with the two taking shots at each other in interviews and on social media.
During the podcast, Edmonds claimed King told him that she made up the alleged affair and cheating allegations, which he again denied.
"I was like, 'Well, that's unfortunate because that's just ruined her life and then it's trying to ruin my life,'" Jim said. "She went after our nanny, Carly, so hard that she lost everything, all self-esteem, everything, had to move out of the city, start over. And it was awful. I mean, it was just like something you don't do to a 23, 24-year-old child."
"It's just like, denial, lies, denial, lies, and more lies," he added. "I tried to ignore it as long as I could, and you know, this is why you haven't heard anything from me in three years. It's an absolute joke. It's so false and it's embarrassing for me, [Kortnie], Carly, for Meghan herself, like, it's ridiculous."
At another point in the conversation, Edmonds discussed his son Hart's medical condition.
Back in July 2019, King revealed Hart, who was then an infant, had been diagnosed with periventricular leukomalacia (PVL) on both sides of his brain. Then, in October 2020, the reality star shared that Hart had also been diagnosed with hypotonic cerebral palsy.
At the time, Jim threw doubt on Meghan's claim, and during his appearance on the "Hollywood Raw" podcast, asserted that Hart "doesn't have cerebral palsy," but acknowledged his PVL diagnosis.
Edmonds then slammed King for claiming their son has CP when he allegedly does not. "I'm like, well, OK, then tell the truth," he said. "Don't tell the sad stories all the time. Like, just be straight."
Meanwhile, O'Connor chimed in throughout the interview, including when the topic of co-parenting came up.
"It's still kind of an open wound," she said. "Now it's gotten to the point where we have a nanny doing it and I think that's better. But if I'm needed, I'll step in. But she's made it so that it's hard for me even to co-parent with her because of the things she says about me."
"She's embarrassed me, humiliated me," Kortnie claimed. "And it's like, how many punches do you take to the face before you just say enough? ... It's sad for the kids, but I try to just stay neutral and pretend that everything's fine."
Edmonds said they have a system in place for picking up and dropping off the kids. However, he explained that co-parenting hasn't been easy.
"There's been so many mixed-up messages and so many crossed-up situations," he claimed. "It's so annoying. It's like the co-parenting -- I don't even know if that's a word in our situation right now -- it's like we're just hoping that we can get the kids, you know, keep them sane and healthy."
Also during the podcast appearance, Jim threw shade at Megan's love life. The latter was married once before Edmonds, and tied the knot with President Joe Biden's nephew, Cuffe Owens, in October 2021, however, the pair split two months later. King has also been previously linked to "Bachelorette" star Mike Johnson, Trevor Colhoun and Will Roos.
"My poor kids, like every time another guy leaves the house, they're like, 'Oh, he was mean,'" Edmonds said, "I mean, they're gonna grow up thinking every guy's mean, and that's one of the issues that we have with it is, you know, our kids are, my kids and her stepkids are, now thinking that every guy that leaves mommy's house is mean."
When Jim was asked if he believes there could be a "road to peace" between himself and Meghan sometime soon, he said, "Not as long as she talks."
King has yet to comment on Edmonds' remarks.