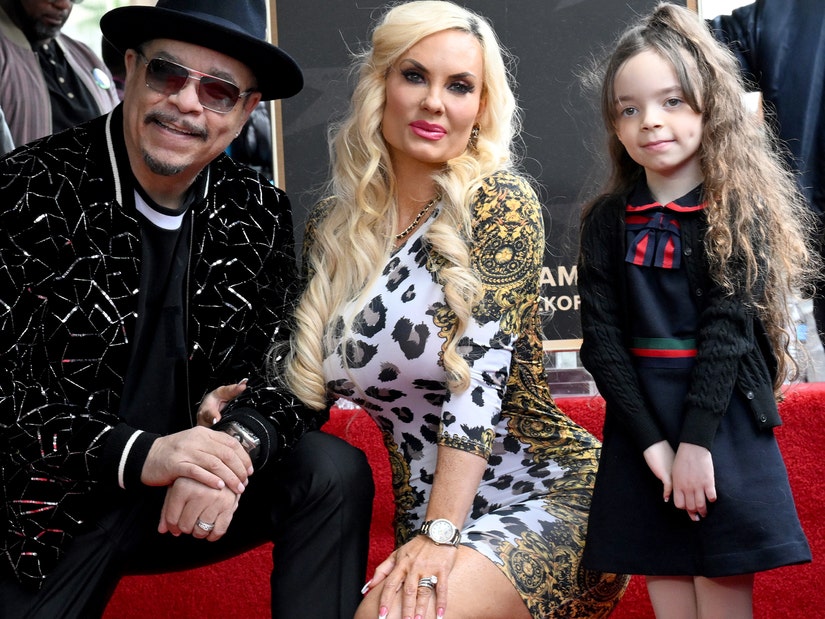 Getty
The "Law & Order: Special Victims Unit" star and father of three also shares why he's "much more connected" to Chanel than his other kids.
Ice-T is opening up about his home life with his wife Coco Austin and their daughter, Chanel.
"I was there when Coco was pregnant, I went to the hospital and Chanel still sleeps in the bed with us," said Ice-T, 64. "So I'm so much more connected to her than my other kids. But it's been a beautiful thing."
The rapper added that while he's a hands-on father with Chanel, he wasn't as present when his two older kids -- Letesha, 47, and Tracy Jr., 31, -- were growing up.
"I think the difference with Chanel and my other kids is I'm very conscious of this baby," he said. "I had my daughter when I was in high school, I was ripping and running, so it was presents over presence. I wasn't there."
"My son, my son Ice, happened right when I was becoming Ice-T, I'd never been famous before, this was a whole new thing, so I'm distracted by that," he continued. "Chanel, I'm comfortable, I'm in a cruise pattern."
Ice-T went on to share how his life changed when Chanel was born in 2015.
"It made me want to live forever," he said. "It made me create new goals. 'cause you got bread, you could start slowing down. But nah, not that new baby. It's the best gift I could ever get."
Both Ice-T and Coco have previously opened up about parenthood. The latter, in particular, has been the target of social media critics on several occasions in the years since becoming a mom to Canel.
While appearing on an episode of "The Tamron Hall Show" in November, Coco broke down in tears after Hall surprised her with a special video message from Ice-T, who she said wanted to come to set and surprise her in person during the interview, but had to work at "Law & Order: SVU."
"This is a shout-out going to my wife Coco. You are the most incredible person I've ever met, the nicest person I've ever met, and the best mother to Chanel that anyone could possibly imagine," he said, causing Coco to get choked up. "I love you to death, 22 years baby, and it gets better every day. Love is love."
"As a mother, you don't hear that much. You don't hear that much from everybody," said Coco, explaining why the message hit her so hard.
"I have the whole world and I'm underneath a microscope all the time and you don't hear what good you do," she continued. "You don't hear the goodness, you just hear a lot of bad and I know I'm a good mother because I dedicated the last six years --putting everything aside, my career, everything -- just for her."
She added that, "you just want a little love, you want a little respect from people."