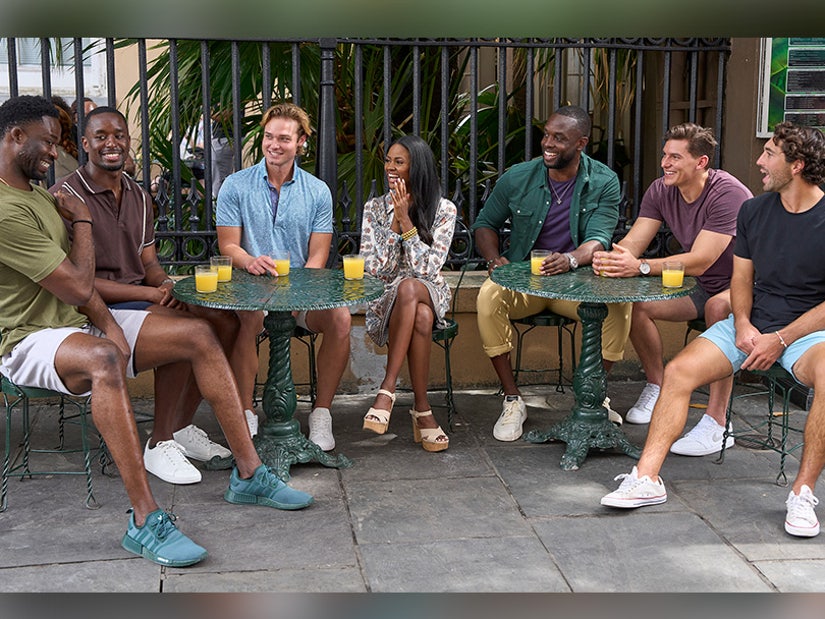 ABC
Bachelorette Charity Lawson was incredibly indecisive in Week 5 to the point she didn't hand out any roses twice -- though she did finally focus and reveal her Final Four ahead of next week's Hometown visits.
She didn't seem to want to do it, but Charity Lawson really needed to make some decisions on "The Bachelorette" this week because producers were not about to foot the bill for six Hometown trips.
Thankfully, after dragging it on and one -- to the point of near-cruelty in one case -- she finally broke down and made a damned decision. We do get how hard it is, but these things have to be done. She can't visit everyone's families and she can't marry them all!
After finally freeing the House of Brayden's toxicity, Charity was left with a pretty solid group of guys who were supportive, while also struggling with their own feelings. Things are getting down to the wire, so we get it.
Plus, this is always the time that someone gets a second One-on-One date before someone else has even had a first one. Well, how about doubling your trouble because Charity did that twice in a row this week.
Of the six guys, four had enjoyed One-on-Ones with her and there were two One-on-Ones this week. Seems logical she'd pick the two she'd not yet had that intimate time to get to know better, right? Well, logic goes out the window when the heart's involved, apparently.
As Sean and Tanner looked on (and on and on), Charity asked first Joey and then Dotun to go on One-on-Ones this week. And yes, you read that right, that means Dotun is getting a One-on-One two weeks in a row. That's like getting slapped in the face two times in a row if you've not had one at all!
Sean was getting all kinds of fired up about it because he was seeing a strength in his connection with Charity that she wasn't seeing and we certainly weren't seeing from home. Maybe the scarves were reminding her of Brayden, even if his are cashmere.
To add insult to insult, Charity instead invited the One-on-One-less twins on a dreaded Two-on-One. If Group Dates are awkward, this format is tortuous. They went on a Bayou gator tour as the gang was in New Orleans this week, and neither of them were all that compelling.
This franchise has never been subtle with their edits and both Sean and Tanner were getting the bland factory settings edit this week, for sure. It was amusing because they were almost identically forgettable when with Charity, and then Sean was so much more fired up in his confessionals.
By the end of their Two-on-One they had convinced Charity of absolutely nothing. It's kind of like watching paint dry, it takes forever and it seems like nothing is happening the whole time. That's how the date felt for us, too. So she didn't had out a Rose at all, and was magnanimous enough to not cut them both right then.
Well, that might have been producers reminding her they still have to edit all of this into a two-hour show. So let's at least drag this out a bit. By this point, we were thinking it would take a miracle to save either one of them.
Charity has had meaningful connections with Xavier and Aaron before this week and some really cute moments. Tanner is so forgettable we legitimately forget he's part of this cast every single week (sorry, Tanner!). Sean was building this all up so much in his mind the fall was nigh inevitable.
That said, we didn't see how it would come, even as we were feeling very confident that it would.
There wasn't any drama in the One-on-One dates Charity did go on. She and Joey had a fun, easy day in New Orleans that culminated in a meaningful conversation about the fact they would be an interracial couple. Joey was thoughtful and realistic in his responses, which really sat well with Charity.
it's worth noting she did not have this conversation with either Tanner and Sean. It could be because their collective blandness was causing her to temporarily black out throughout their date -- or because she wasn't yet at that place emotionally with them to really explore such a real issue.
She and Dotun did a half-marathon fun run through the streets of the city and it was another very sweet and easy date. Of these final six guys, she seems to be the most fully relaxed with Dotun and Joey, with Aaron a close third. Things are just always a little more serious with Aaron, it seems.
The week played out that way, as well. Both Joey and Dotun had tame, simple, fun dates that ended with them getting Roses on their chests. After the failed Two-on-One, she scheduled a Group Date with all four of her Rose-less men, but only three would wind up going.
Sean decided he couldn't handle the lack of validation, and so he went to her hotel room to tell her how confident he was in them still despite the lack of validation (which he defines as a Rose on your chest prior to the Rose Ceremony). Honestly, we're not sure what he thought was going to happen. Was she going to pin a Rose on him in her room?
Ultimately, as he went on and on about their connection, it became more and more clear that this was a one-way street and Charity was not at all on the same page he was as to how things were going between them. Finally, she couldn't take it anymore and just walked him out.
Had he stayed out of her room, he'd have gone on that Group Date and might have had a shot of staying. That's because Xavier got pretty real with Charity, too, in telling her that he wasn't sure he could see himself devoting himself entirely to just one person forever and ever -- you know, the end goal of this whole show.
He did sort of finally clarify that he felt he could get there with her and even looked forward to it. His intention was to be honest with her, but as he admitted in a confessional, that's blown up on him before. The problem is that she probably also forgot Tanner was still around.
We're kidding, of course. She remembered Tanner enough to know that there was no real future there. Still, despite there being two Roses at the Rose Ceremony, she only gave one of them out ... and it, of course, went to Aaron. Aside from having her back about Brayden week after week, they have shared a very real and strong connection. Their conversations flow easier, too, despite how long it's been since their One-on-One (the first of the season).
And so, when she revealed she wasn't going to hand out the final Rose of the week at the Group Date, she left Tanner (for the second time this week) staring at a Rose not handed out because she can't decide. She couldn't decide between him and Sean at the Two-on-One and now couldn't decide between him and Xaver at the Group Date. What's the common denominator?
Charity finally figured out that if she keeps not being able to commit to Tanner, it might be a pretty clear message that this is not the dude for you. And so, she sent him home and then spooked Xavier into thinking maybe he wouldn't get it, either, before finally pinning it on him.
And so, Aaron B, Dotun, Joey, and Xavier will introduce Charity to their families next week. All things being equal, we'd say Xavier was in the most trouble, but then we see teasers about Joey maybe not being authentic and guys not being ready and it could be total chaos.
"I want to know how you feel about being in an interracial relationship and I want to elaborate on why that's so important to me." --Charity (to Joey)
"Please do." --Joey
"Just my past relationship and kind of diving into that, it was a relationship that didn't start off very great but I think it was almost inevitable that when we would go out, like, it's just the things that you face and it's unfortunate but that's just the times that we still live in. With this person, I think it just boiled down to the lack of awareness and unfortunately, ignorance, like these things don't do and in fact they do. And I just didn't see that effort." --Charity
"I can sit here and ask a million questions but it wouldn't change the fact of what it would feel like to actually be put in that instance." --Joey
"It's not something I want to say is going to be easy because it's not. Even as an individual without a partnership, like navigating life as a Black woman, it's not something I ever want to apologize for because that's who I am and the person that I'm with should be willing to and want to embrace all of that, know more, educate themselves and attempt to try to truly." --Charity
"I don't think that's something I'll be able to learn until we try to conquer that together. I do see you for the entirety of who you are, and I never want you to doubt that I can be someone like that for you." --Joey
"I would be crazy not to tell you that I am falling in love with you." --Joey
"Charity Lawson, somebody told you tonight that they're falling in love with you. Not because you asked them or begged them but because they wanted to … I am falling in love with him." --Charity
"They've been out there a long time, I wonder what they're up to." --Tanner
"I don't even want to think about it because I know they be kissing." --Xavier
"Charity's a rock star. I'm happy to be here with her. Not so much with Sean." --Tanner (during 2-on-1 date)
"Tanner's a great guy … but honestly, I'm not worried about him." --Sean
"It confuses me that I just don't have a 1-on-1 here in New Orleans. This is not cool. At all. Like, I'm actually here for Charity. Like, I'm not going to act like it's all peaches and cream out here. It's not. Yeah, I'm f---ing p---ed." --Aaron B
"I'm getting a stress rash because I don't know." --Charity (uncertain during 2-on-1)
"I feel like the best decision for me in this moment is to not hand out a Rose tonight." --Charity (during 2-on-1)
"Charity needs more time. She told us exactly what it was and she respects us both enough to give us more time." --Tanner
"Now I'm questioning everything. How can I be so sure of us and have this girl unsure about us." --Sean
"I've pretty much got zero validation this whole time and I'm still here. It's so confusing. It's boiling up inside of me … I'm trying to suppress it, I'm trying to be in the moment, but if she throws a Rose on Dotun's chest, all hell is going to break loose, I'll tell you what." --Sean
"This is the tipping point where I feel like I need and deserve some answers in terms of where does she stand in all of this." --Sean (going to see Charity after Dotun gets Rose)
"I haven't had a 1-on-1 and I haven't had the validation of getting a Rose on my chest before a Rose Ceremony." --Sean
"I'm totally falling in love with you and that's why that Rose meant so much to me." --Sean
"Looking at it all and understanding the magnitude of this week, when I look at it all, there are connections that are stronger." --Charity
"I don't want you to give up on us … I feel confident with the 1-on-1 time we can get there." --Sean
"We're here. I can go on and on all night truly about everything that you are. As of right now with what this is and where I'm at, what you want from me I can't give and I'm very fearful of not being able to get there. I don't think I can." --Charity
"It scares me to genuinely commit all myself to one person forever. That idea scares me." --Xavier
"Why?" --Charity
"'Cause, like, that scares me because it's something I've never done before and I can only do it once and I want to do it right. There has to be no doubt for that." --Xavier
"The Bachelorette" continues next Monday at 8 p.m. ET on ABC.