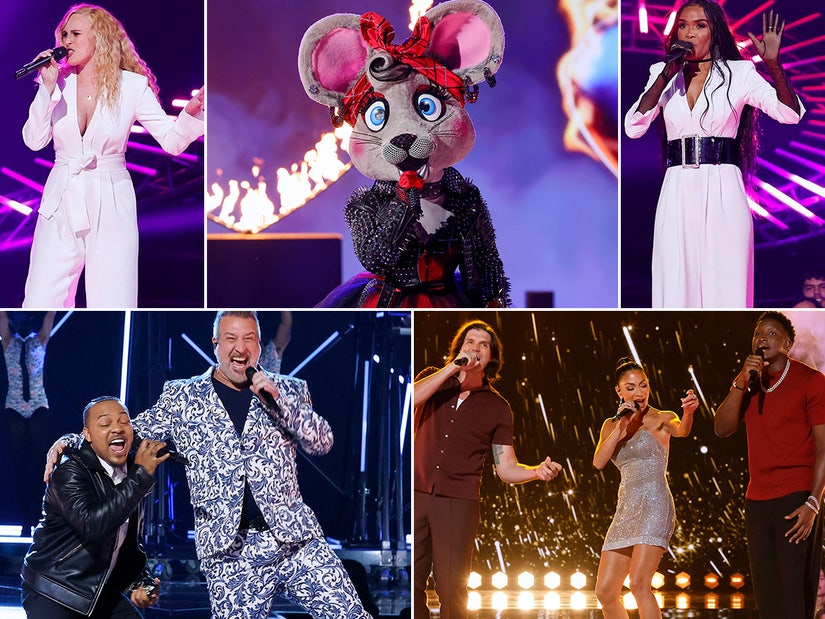 Fox
The Masked Singer looks back at the previous nine seasons with some past favorites returning for surprise duets, while also introducing and unmasking Anonymouse -- easily one of the biggest gets for this silly little show.
In an unexpected and somewhat odd choice, The Masked Singer kicked off its tenth season more than two weeks before it kicks off its tenth season. Out of nowhere, but probably enjoying the NFL kickoff as its lead-in, Masked celebrated a kickoff of its one, with a surprise superstar unmasking.
Even though it wasn't an official part of Season 10, this kickoff special still introduced a new masked celebrity, had them perform, offered clues and then unmasked them at the end of the night. As they were the only performer, there was no vote, but it certainly allowed them to get a pretty big name.
The rest of the night was filled with a look back at what they declared their Top 5 performances, as well as some reunion performances from some famous masks of seasons past. Oddly, all of the returning performers were from the first three seasons, while the whole Top 5 came from the first four.
Did they forget there were five more seasons between then and now? This is their Season 10 kickoff, right? It was an odd choice, but one that helps confirm to us that the show has lost its way a bit when it comes to format. The new format brings in more masks, but they perform far fewer times.
That's a disservice to the viewers as we enjoy that connection with those singers as we follow their journey through the season. Yes, it gets a little easier to guess who they are, but just offer fewer clues along the way. The reason Season 1 winner Monster's story touched us is because we were there with him every step of the way.
Now, it's a little haphazard. In that regard, it was fun to look back at a simpler era of The Masked Singer, when there were fewer contestants and a little more heart. We also absolutely agree with the performance they ranked at number one, as we still go back and revisit that one regularly.
We've embedded the full performances of those Top 5 so you can enjoy them all over again. Then, we've got some fun reunion performances, followed by the debut of Anonymouse and finally their unmasking. We're not sure it's the biggest unmasking in show history, as the show dramatically declared, but it's a pretty huge get -- and an incredible voice.
Let's jump right in with this week's mask. And don't worry, before we get to the shocking unmasking(s), we're going to make you power through the terrible (and occasionally good) guesses made by our illustrious panel of Robin Thicke, Jenny McCarthy, Ken Jeong and Nicole Scherzinger first. We do this because we love ... to torture you.
TOP 5 ALL-TIME PERFORMANCES
No. 5: Peacock (Season 1)
("The Greatest Show," The Greatest Showman) Donny Osmond was such a showman, this was easily one of his most entertaining moments in the spotlight. His theatricality and over-the-top showmanship, in fact, was how we were able to figure out who was under that costume. Osmond would go on to finish in second place behind Monster/T-Pain.
("Cuz I Love You," Lizzo) LeAnn Rimes proved why she was such a worthy winner with an incredible and unexpected performance for the country legend. Her voice showed so many unexpected layers to it as she handled the rap elements, flew into the jazzy, bluesy chorus and soared to those high notes like she was ordering lunch. She stunned everyone with that one.
No. 3: Thingamajig (Season 2)
("Rainbow," Kacey Musgraves) Victor Oladipo was one of the biggest surprises of Season 2, stealing Nicole's hearts and ours, as well. We all spent the whole season convinced that this person has to be a professional singer only to find out he's an NBA star. At least that explained his height. His voice was such a beautiful surprise to those who didn't know, even as he had to settle for a fifth place finish.
No. 2: Seahorse (Season 4)
("My Heart Will Go On," Celine Dion) Tori Kelly is one of the biggest voices to ever grace the Masked Singer stage and she proved it with this incredible performance, taking on one of the most iconic songs of all time. She captured both the intimate, softer tones as well as those soaring notes that made this one of the most successful tracks of all time. Tori had to settle for fourth place in her season, but cemented her status as one of the best ever with this.
No. 1: Monster (Season 1)
("Stay with Me," Sam Smith) T-Pain broke our hearts with this performance, proving why this show was so much stronger when it was a journey for these contestants. Is there any reason we're only getting "best of" moments from the first four seasons? That's before they started breaking the heart of this show in more recent years. This was easily one of the most powerful moments on any reality television show as T-Pain got his redemption and proved the power of his pipes and his heart with a well-deserved victory.
Butterfly (Season 2) & Lion (Season 1)
("(You Make Me Feel Like) A Natural Woman," Aretha Franklin) Michelle Williams & Rumer Willis were an unexpected pairing, but props to Rumer for coming out first with a command vocal performance. Taking on Aretha is no joke for the most seasoned performer, so someone who doesn't do this for a living coming out so strong is huge. Her voice paired beautifully with Michelle's sweeter, more tender tone, to create a really special duet.
Thingamajig (Season 2) & Rhino (Season 3)
("Meant to Be," Bebe Rexha f/ Florida Georgia Line) Victor Oladipo & Barry Zito were joined by Nicole Scherzinger, who was crushing pretty hard on them both during their respective seasons. Considering the history of these contestants with Nicole, this was a very fun song choice, and turned into a great performance. Barry was more in line with the song's country roots, but the trio harmonized well and really put a lot of spirit into this special moment.
Frog (Season 3) & Rabbit (Season 1)
("ABC," The Jackson 5) Bow Wow & Joey Fatone definitely gave us an unexpected pairing and song choice. Joey was effortless sliding into a falsetto to match Michael's juvenile voice, but we're not sure we were completely sold on this overall performance. It was just such an odd song choice, it didn't seem to fit well with either one of them. There was an element of craziness to it, which actually is pretty appropriate for this madhouse of a show.
("Purple Rain," Prince) Nicole Scherzinger got another showcase, this time to help look back at nine crazy seasons. Why doesn't Robin Thicke get to perform as much as she does on this show? Does he not want to? Don't get us wrong, she's always solid and tackled this song like she had something to prove. There was a lot of passion and conviction, as we looked back at nine winners.
("What About Love," Heart) Anonymouse kicked off the new season with a ton of power and a beautifully controlled tone. She had incredible stagen presence and a real sense of showmanship, even through the costume. This is definitely someone who's a professional singer -- or missed their calling. She's got one of the strongest voices we've seen on this show in sheer power and projection. The song was a great fit for her tone as she's got a natural rock edge to what she does.
Guesses: Without a clue package, Anonymouse gave the first clue about her identity. "Just like Michelle Obama, Oprah, and Angelina Jolie, I'm on one special list," she said. "Times 100." That marks her one of the most influential people in America.
It got Jenny thinking Miley Cyrus and Alicia Keys, while Nicole was throwing out powerhouse voices like Christina Aguilera and Ariana Grande. Ken threw out Lady Gaga as his "Times 100" influential powerhouse before declaring her "the most powerful voice on the show."
The Men in Black then brought out an on-stage clue for her that was a concrete block with her paws in it, like the handprints of celebs at Grauman's Chinese Theatre in Hollywood. She shared that her acting career has "cemented" her as one talented mouse. So does she have her handprints there?
The new clue got Jenny thinking of Oscar winner Jennifer Hudson, while Robin went with Kelly Clarkson. We're gonna call shenanigans on Jenny praising her work in From Justin to Kelly because we try so hard to forget that travesty exists.
Nicole brought us back to reality by guessing P!nk, who does have one of the rawest and most powerful voices going. But she's not an actress, so she threw out a stronger possibility in Demi Lovato, who definitely has a background as both a singer and actress. That one would seem to fit the voice better than the J-Huds of the world (and the other two are not actresses).
Finally, we got an actual clue package, where she revealed that she started working young but landed her big break when she could showcase her voice. She admitted to struggling with internal demons even as her career was taking off, eventually hitting rock bottom.
Images included a tiara, t-rex, Texas and a graffiti shot of someone who sure looked like Nick Jonas. "It's about time I stopped by," she quipped. "You've all been guessing me for the past nine seasons."
These clues took the panel to Miley Cyrus and Kelly Clarkson, but Robin and Nicole were still leaning toward Demi Lovato. Jenny even tied the dino clue to her start on Barney. But Ken wasn't ready to let go of Gaga, thinking the tiara was for her song, "Princess Die."
Robin Thicke: Demi Lovato
Jenny McCarthy: Demi Lovato
Ken Jeong: Lady Gaga
Nicole Scherzinger: Demi Lovato
Look, the clues were pointing pretty hard at Demi Lovato, and when you listened to that vocal with her in your mind, you could definitely hear it. It's not often this much of the panel is in consensus (and Ken rarely counts anymore anyway), so we were on board with this guess, as well.
Of course, the consensus was right and it was Demi Lovato under the mask. It's certainly an unorthodox way to do this show, with a guarantee that it's a one-and-done. It definitely takes the competition element of it completely away, but as a one-off element for this kickoff special, we can allow it. It does allow certain artists who would otherwise not commit (or could not) the chance to join the circus of insanity, even if for just one night.
Diver: usually pretty pumped, might be most hated creature in the ocean right now, cardinal
Gazelle: first clue she offered up to her identity was Season 4's Gremlin, Mickey Rourke
Royal Hen: known around the world for what they did, four eggs (two with crowns)
Husky: $10,000,000 bill
The new season of The Masked Singer kicks off officially on Wednesday, September 27 at 8pm ET on Fox.