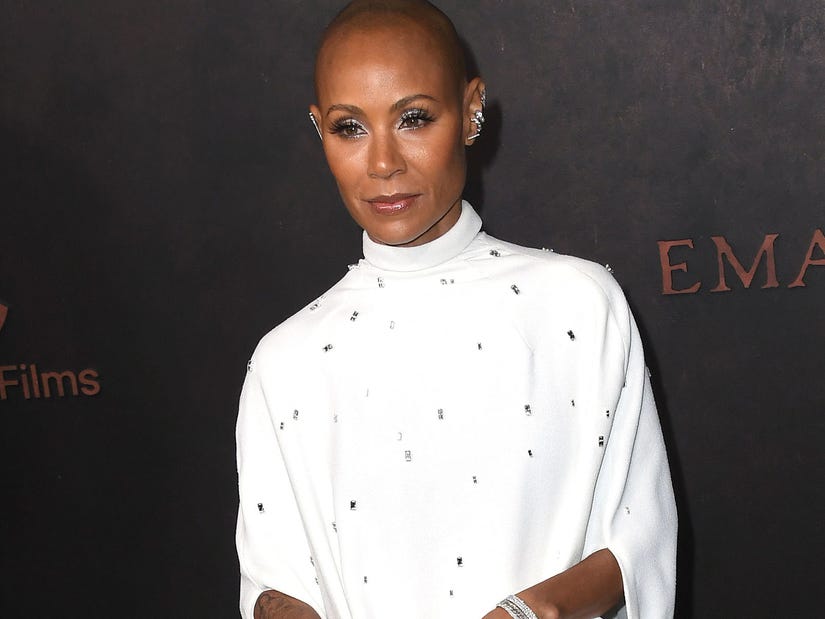 Getty
Jada was set up with this ex by their publicists and while her mother warned her that "something is off about him," she didn't see it until it was almost too late.
While she doesn't reveal his identity -- calling him "Lance" throughout the story -- she said he ended her "sabbatical from dudes" in the fall of 1994 and received a call which "piqued my interest."
"In this era, Hollywood introductions were often made through publicists and managers. That's how I agreed to go out with a gentleman -- we'll call him Lance," she wrote. "I obliged the request because ... why not?"
According to Pinkett Smith, this man was immediately intent on "locking me down," supplying her with "gifts, trips and compliments galore," while also expressing his desire to have a child with her. Despite them "hardly" knowing each other and her insistence she wasn't looking for anything serious, he "persisted" -- even offering to "pay close to seven hundred thousand dollars toward the renovation" of a farmhouse she had in Maryland at the time.
"His gesture didn't feel like generosity, it felt like a way to entrap me," she wrote, saying her mother even warned her she felt "something is off about him." Jada still didn't see the red flags or ignored them at first, acknowledging that he "had shown signs of being easily agitated and sometimes having difficulty calming down when he didn't get his way."
She went on to say that "Lance" became upset with her over her friendship with Tupac Shakur as well, something which was an issue for her with a number of her romantic partners. When she wanted to visit Tupac in the hospital after he was shot at Quad Studios in 1994, she added he reacted in a way which "didn't score him any points with me," scoffing at the idea they were only "friends."
After she returned from visiting Tupac in the hospital and getting him set up at Jasmine Guy's home for his recovery, she continued having constant contact with them both -- something she assumed "gnawed at Lance." She was also fielding calls from Spike Lee about working together on Girl 6, something which Lance showed no interest in.
Amid all that, Jada and Lance went out to dinner with a friend of his, before getting into a "minor dispute" which "erupted into an explosive reaction from him" on the drive home. "His intensity never really felt safe, so as usual, my reaction was to try and stay levelheaded," wrote Jada, adding that Lance's friend was also in the car with them and attempted to calm him down. When that didn't work, she realized "this was not going to end well," pointing out how Lance was "all muscle" and had also been drinking.
It was then she threw herself out of the car, which was near Lance's home, before running to the house, changing into her sweatpants and sneakers and grabbing "the biggest knife he had" before hiding in his child's bedroom. She then realized she was "trapped," so ran for it before getting into a "standoff" with Lance in the hallway -- holding the knife in front of her face, while warning him to stay away.
Thankfully, Lance's friend came into the house and deescalated the situation enough for him to apologize and Jada to feign acceptance. She then started packing, telling him she had to go meet with Spike Lee the next morning, promising to return after.
"The next morning, Lance said, 'I'm never going to see you again, am I?'" Jada recalled. "I put on my brightest, most forgiving smile and said, 'Of course you will," she added -- saying she then got on the plane "thankful the lie had worked."