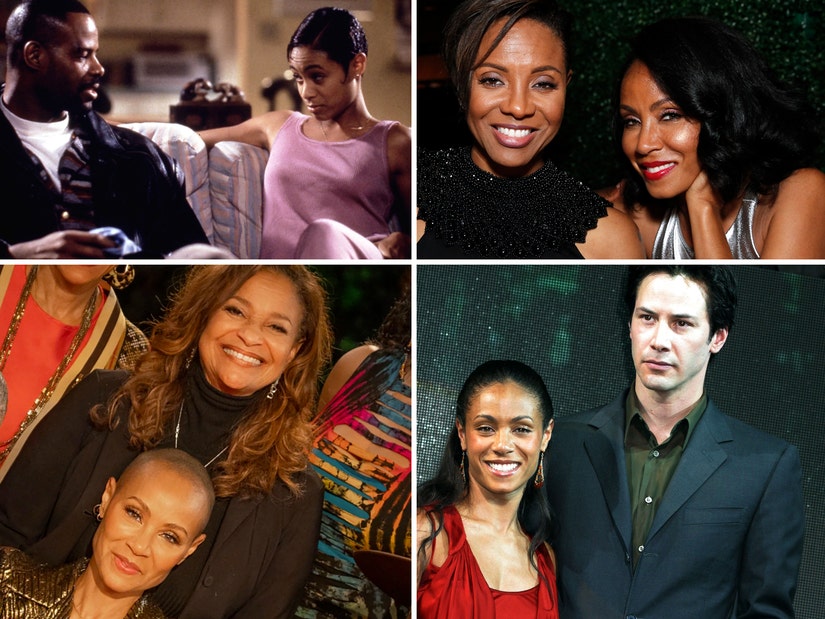 Everett Collection/Getty
From the celebrity friend who warned her against perjuring herself in court to the artist who raced to her side when she felt suicidal, Jada's book is filled with anecdotes on how people like Keenen Ivory Wayans, Warren Beatty, Prince, Keanu Reeves and more helped throughout her life.
Jada Pinkett Smith used her new book, Worthy, to shed a light on how others in Hollywood helped her throughout her life.
While the actress wrote that the memoir is about a "woman's quest to find the power of unstoppable, indestructible love for herself, the key to her true empowerment and the acceptance of the journey that delivered her there," she also shares quite a few anecdotes about her famous friends and colleagues throughout the book.
Speaking with TooFab before the book's release, she said she "absolutely" believes most of the people she wrote about will be surprised to see how much they impacted her with their support, advice or words of wisdom over the years.
"These are people that, along the way -- talk about those breadcrumbs of encouragement -- you don't know little things just affect people, whether good or bad, right?" she continued. "So I just wanted to give my flowers to those that were part of that particular aspect of my journey and just let them know the oxygen that they gave me along the way that kept me on the right track, no matter how big or small."
She told TooFab she didn't give any of the stars she talked about a heads up, saying "they'll read it when everybody else does."
Keep reading for some of the tales she shared in Worthy.
Charles, of The Good Wife fame, is someone Pinkett knew from elementary school, before reconnecting while they both attended the Baltimore School for the Arts. She referred to him as "the coolest white dude she knew" in the book. Though she only mentioned him briefly during a story about playing hooky from school one day, she said he was "completely down to host" her and one of her classmates at his NYC apartment after he had already started working as an actor. They hoped to "learn the ways of having a real-deal gig in show business" from him, though the trip landed her in hot water with her mom.
After leaving Baltimore for Los Angeles, she got to know Keenen Ivory Wayans after becoming friends with his then-girlfriend. This was right around the time In Living Color broke big, with Jada saying he "soon became a mentor in the best sense of the word" for her. Though she asked him to make her a Fly Girl on his show, he instead urged her to "keep doing what you're doing" and pursue acting. She said he was also "ADAMANT" that she not perjure herself to provide an alibi for one of her old friends in the drug game.
"I'm so thankful for Keenen. If he hadn't taken the time to talk some sense into my young, arrogant, thick skull, there's no telling where I would have landed," she wrote, saying he warned her she could end up in jail. Wayans also said she could use his name as a reference when trying to find an agent, something which changed the trajectory of her career.
At one of Wayans' parties, she also met Eddie Murphy, saying he was surprisingly "kind" and shocked her by saying he didn't drink alcohol. Of Murphy, she said, "Eddie gave advice if I asked, but mainly, he gave me the sense that focus and intention would carry the day." She felt "successful people around you will see your effort and want to give you assists," instead of just asking for a handout -- adding that Murphy "offered me a grand opportunity" after he "witnessed that I could continue to make a way for myself."
Later, she met Duane Martin while working together on a pilot for a show called Moe's World, saying he quickly "became a big brother on day one, and we have championed each other ever since." Martin later hooked her up with Will Smith, who wanted her to appear as his girlfriend on The Fresh Prince of Bel-Air, but she turned down the role so she could focus on her film career. She said it led to a "heated exchange" with a "pissed" Martin, but she stands by her decision to this day.
Someone Pinkett Smith praises profusely is Debbie Allen, who created the role of Lena James for the actress on A Different World after Jada came into audition for another part. "Debbie Allen felt my presence, she saw my promise, and she believed in me," wrote Jada. "I felt seen by this incredible woman in a way I had never felt before. I felt loved. There has not been a day since I met Debbie Allen that she has not loved, supported, and cared for me -- no matter what. I love you Debbie."
She also thanked Allen for rearranging her schedule so she could appear in Menace II Society. Jada credited Tupac for getting her a role in the film, which he was supposed to star in before he was fired after getting into a fight with the directors, The Hughes Brothers. While Jada said she insisted on quitting after he was fired, she added Tupac convinced her to stay in the film, which really launched her movie career.
Another big name in her corner was rapper MC Lyte, with whom she became friends after meeting at an event in New York in the '90s. Saying their friendship quickly developed into a "beautiful sisterhood," Jada went on to call Lyte someone who saw her "at my best and at my worst" and would still "love me all the same."
When Jada was in her 20s, she also suffered a "breakdown" and felt suicidal -- saying Lyte immediately booked a flight to LA to help. Pinkett Smith also said Allen hooked her up with a therapist at the time who put her on Prozac for depression and "without a doubt, saved my life."
Jada wrote about Prince approaching her to collaborate on a ballet-opera he was working on, detailing a meeting at her home. Though she "subtly horrified" him with photos of her dressed as him for lip-synch contests, she said their relationship shifted into one where he served as her "mentor."
"When he seemed to come out of nowhere to befriend me, I was reassured by his kindness, his respect, and the value he placed on my talent," she added. "He offered me knowledge, understanding, and support that I really needed at that time in my life."
Pinkett Smith said she read for a part in Bulworth opposite Warren Beatty, she told him she didn't feel the script was "realistic" culturally and added she couldn't do the film. Despite turning down the role, Jada said Beatty asked her to lunch and "pointed out that maybe it would be to my benefit to soften my approach a bit" when dealing with others.
Though he praised her talent, humor and charm, he also said she could sometimes "come off as abrasive."
She said he was being totally "nonjudgemental" with her, adding that she very much "appreciated" the feedback. Jada said she saw it as him asking to "allow more of the delight under my hard exterior to peer though," while also telling her she "didn't have to betray myself by softening my edges, either."
In the memoir, Jada wrote that while she had "zero chemistry" with Keanu Reeves while auditioning for the role of Trinity in The Matrix, she credited him with -- in part -- inspiring her to pursue a music career.
After being cast as Niobe in the sequels, she recalled telling him about her musical ambitions as he had his own band, Dogstar. "Keanu gave me the best advice," she said, sharing that he told her, "Ignore what people have to say. That's not your problem, just have fun."
With that, she embarked on her career with metal band Wicked Wisdom, touring with Ozzy Osbourne and Britney Spears.