"Riverdale" star KJ Apa may play the incredibly attractive "boy next door" on the show, but he's aiming for another label in real life: "Daddy."
Anyone who follows the show's vigorous Twitter activity will see phrase "Daddy AF" thrown his way quite a bit. During an interview with TooFab, the 19-year-old actor confesses he started the trend himself after witnessing his co-stars fawning over a few older gentlemen.
"Ha! I started that actually," Apa told TooFab. "It started as a personal joke between Camila [Mendes] and I because all of the girls on the show are obsessed with older men, 'Daddies.' And I realized you can only be a 'Daddy' once you're like 26, have a beard and kinda rugged and I'm literally not that so I'm trying to earn it from the girls and gain that title since the new goal in life is to be called 'Daddy.'"
During the show's hiatus earlier this season, the New Zealand star took a road trip with co-star Cole Sprouse. But he admitted they had to make one very important stop before hitting the highway.
"Well, when the show wrapped, the very first thing I did was drive to the salon to get my hair dyed," Apa said. "Then I went to the supermarket to get a whole lot of shitty junk food because when I'm on set, I have a very strict diet."
So, what's his hiatus craving?
"Definitely beers! Like a cold IPA is always so nice. Oh, and a burger, In-N-Out, 100 percent," he added. (Note: the drinking age in Vancouver, where the series films, is 19.)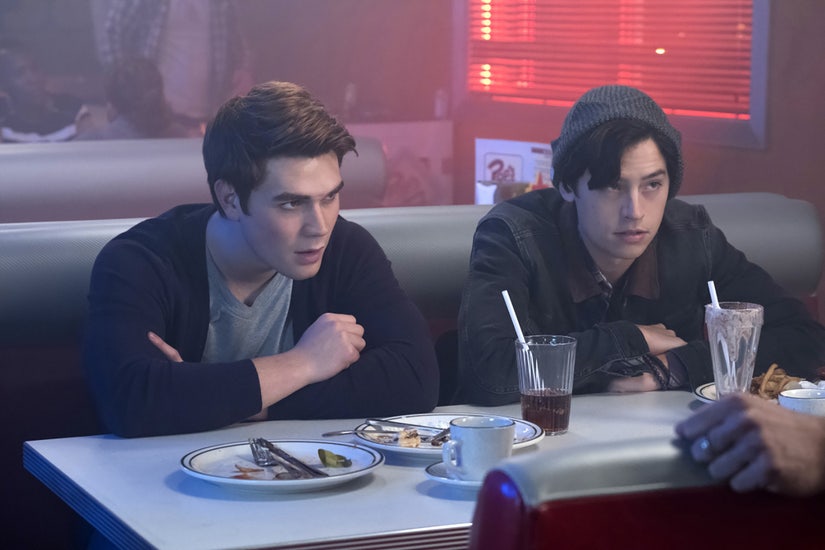 The CW
Like their characters on the show, Apa and Sprouse are actually BFFs in real life.
"We have become really good mates while on-set. We obviously spend a lot of time together so we're really lucky that we get along. It would be a little bit of a disaster if we didn't," Apa said.
"We hung out during hiatus too because he's got this really awesome tent so when we wrapped, we drove from Vancouver to Los Angeles and stopped at a few places to camp along the way. He's a great guy and I've learned a lot from him."
Based upon Apa's Instagram page, it seems the boys had a pretty good time too. When we asked him to share his best memory camping road trip memory, Apa said while giggling, "Well, it's not something I should ever share with anyone… It's too much."
See more of TooFab's CW Riverdale coverage: