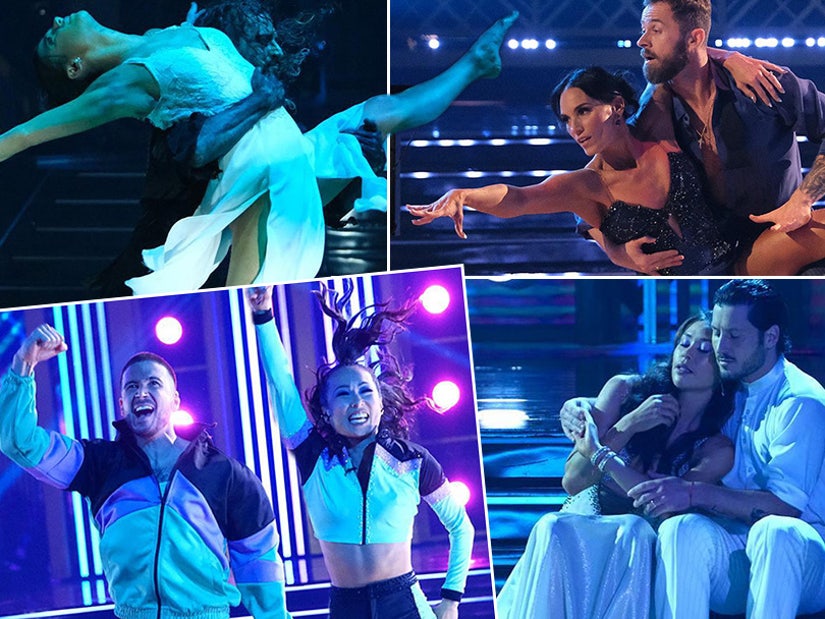 Disney+
There wasn't a dry eye in the house after the unexpected announcement that this celebrity wasn't going to be able to continue in the competition.
It was an emotional night already as the Top 12 of "Dancing with the Stars" shared their most memorable year, but a shocking end left everyone in tears.
One contestant made the shocking announcement mid-week during rehearsals that they were going to be stepping away from the competition (you can see their final performance below). There was no other way to respond to this devastating shock than tears, and there were certainly plenty of those shed tonight.
But it was also a night of tremendous highs, as the season saw its first 10s handed out, with one contestant coming dangerously close to a perfect score. We also finally broke that three-way tie at the top of the leaderboard. In fact, none of the three got the same score tonight.
At the same time, another contender slowly crept into the mix at the top, while several others continued to show great improvement and growth. Even Vinny Guadagnino, who had a breakthrough performance last week, is continuing to step it up.
But if everyone is stepping up, then who's falling into the back of the pack and in danger of going home? There's only one way to find out!
Who do I think I am? you ask. Well, I spent nearly a decade of my life sweating and bleeding to the music as a dancer. From a young boy learning a shuffle-ball-change to performing with the St. Louis Ballet Company, I experienced the ups and downs of one of the most difficult physically demanding sports on the planet. During this time, I was also a member of the St. Louis Symphony Youth Orchestra, as well as a gymnast, writer and cartoonist. I had a lot more energy in my younger years. And I've spent the last twenty years analyzing and critiquing reality competition shows for various media publications. I've got this.
Trevor Donovan & Emma Slater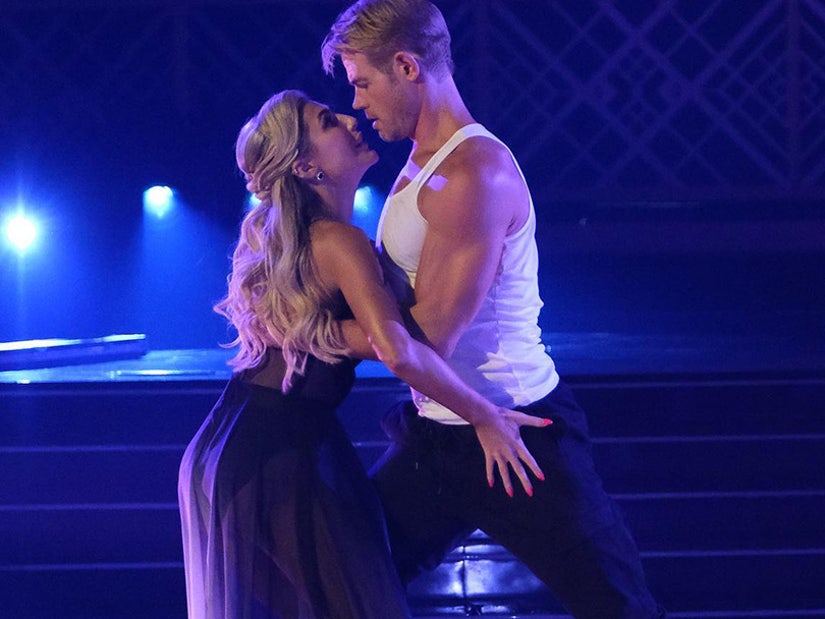 Disney+
(Jazz - "Viva la Vida," Coldplay) Trevor's most memorable year was 2009 when he signed a 3-year contract for "Days of Our Lives." But then, he shared that he would panic when the cameras were on, similar to his fear of dancing. That led to him getting fired from "Days" and going back to life as a struggling actor. He almost walked away from acting before he landed "90210."
This was easily Trevor's most confident and commanding dance of the season, with him being fully present for all of the moves, giving complete extensions. On top of that, and more importantly, he put some "dance" into it rather than just throwing this arm where Emma said and standing here like Emma said. It was still a bit reserved emotionally and in his performance, but physically, this really felt like Trevor had a bit of a breakthrough in letting go a bit and just being fully in the moment.
Judges Scores: 8, 8, 8, 8
Shangela & Gleb Savchenko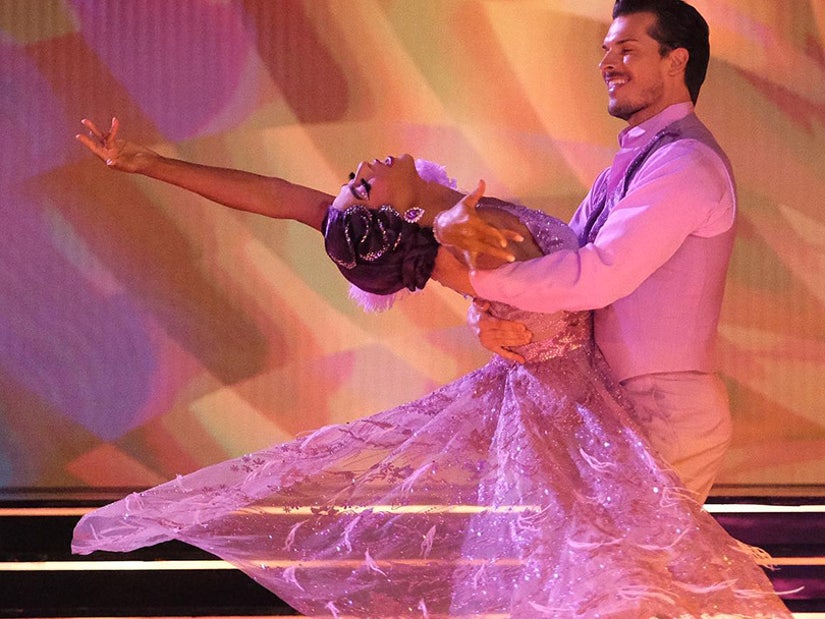 Disney+
(Foxtrot - "Roar," Katy Perry) 2013 was the year Shangela hit a helicopter death drop wrong and broke her leg. She was told she may never dance again, but with the love and support of her mother, who stayed by her side, she was back on tour in four months. That's why she chose this song, too, as it was her recovery song as it reminds her how strong she is. Her drag family who helped motivate her were sitting sidelines with Lance Bass ready to whoop and holler, which they definitely did.
From the jump, after giving a flower to her mother, Shangela came with such grace and elegance. This was a stunningly beautiful performance, aching with heart. Not only did she have just the right quality of gentle movement we were looking for (we barely noticed the quick stumble), her arms flowed like feathers on the wind. There was a magic in the air that she managed to grasp for these few moments, leaving us emotional and touched. As far as her technique, she was on point with everything, except she didn't settle fully into her frame -- though that might have been emotions tightening her.
Judges Scores: 8, 8, 8, 8
Jessie James Decker & Alan Bersten
(Tango - "Blue Jeans," Jessie James Decker) Jessie's most memorable year was the year she first became a mother, 2014. She said that she'd had such an amazing bond with her mother and wanted to replicate that with her own child. This week's song is a dedication to her family, for whom she does everything, as it is her children's favorite song of hers.
Jessie's biggest challenge on this dance is all the turns as she gets extreme motion sickness in general. Can we just say that if you're not going to actually sing a few bars of your song on the dance floor, don't pretend that you are. Just dance. Honestly, this might have been a little too intense, too ferocious even for a tango. Jessie was stalking around, and lip-synching to her song or shouting battle cries or something very distracting, though an uncomfortable first half. Her frame and positioning was inconsistent throughout, but it did get better by the end.
Judges Scores: 8, 7, 8, 8
Gabby Windey & Val Chmerkovskiy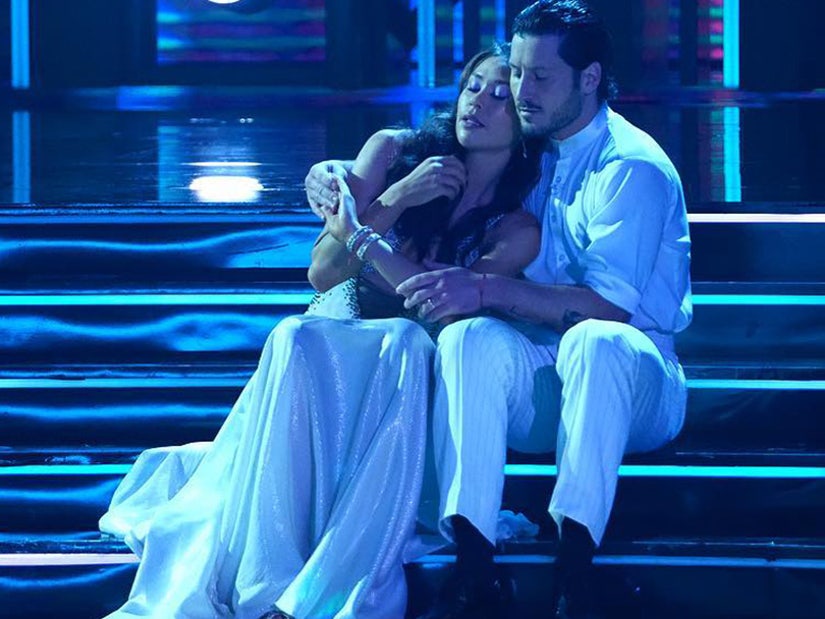 Disney+
(Foxtrot - "If the World Should Ever Stop," JP Cooper) Gabby says being an ICU nurse during the pandemic in 2020 was her most memorable year, which she did for six or seven years to that point. She struggled with seeing death and isolation, where families weren't allowed to be with their loved ones. What the nurses did, though, was to ensure that no one died alone.
She lost the fluidity of her arms from one moment into the next twice and she lost her place in one other moment, but Gabby carried through each of them beautifully. The entire dance was gorgeous, though we'd have liked a little more emotional resonance from her in the performance. Her footwork, grace and movement, though, were a joy to watch as they really did cascade across the stage as one.
Judges Scores: 9, 9, 9, 9
Joseph Baena & Daniella Karagach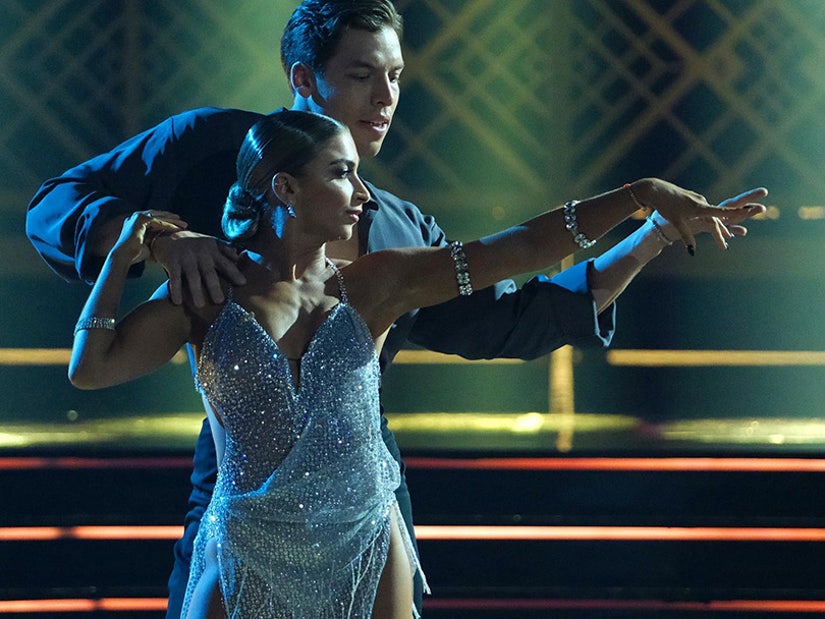 Disney+
(Rumba - "My Way," Frank Sinatra) Joseph is still living his most memorable year as he said this was the year he decided to listen to himself and shake the expectations that he should be a junior version of his father, Arnold Schwarzenegger. Finally, he feels ready to take on the world on his own terms with his own dreams and goals. After a tough journey so far, Joseph was definitely challenged to loosen up his hips and let loose in a rumba.
Lighter on the tricks this week, we were definitely impressed with how hard he's worked on his arms. The quality of movement out through the fingertips with his extension flowing effortlessly back inward was genuinely beautiful. It's a good thing, too, as we got a lot of that from him in this dance, as well as his continued great partnering for Daniella, who was all over the place. It was a very grounded performance with such subtlety of movement you almost missed just how much he did do.
Judges Scores: 9, 8, 9, 8
Daniel Durant & Britt Stewart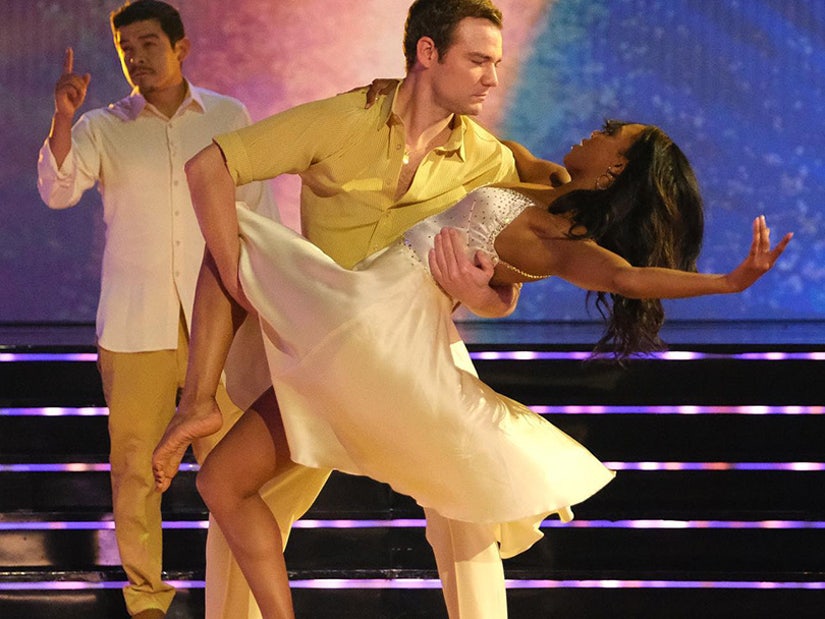 Disney+
(Contemporary - "Both Sides Now," Emilia Jones) Daniels' most memorable year was 2019, when they started filming the Oscar winning "CODA." He was three years trying to find an acting role because of the challenges of deaf actors landing roles. That little movie culminated in a trip to the Oscars and a huge night for their little independent film. To honor it, their song was from the big climactic moment from the film, so he was hoping for a big climactic comeback for himself this week.
We appreciated that his interpreter, Gabe, was included in this performance, signing the lyrics to the song, but we still wanted a little more quality of movement from Daniel -- and movement, if we're being honest. His feet were planted it felt like more than half of the entire song, leaving Britt to create more of the motion of the piece. When he did move, it was inconsistent as to whether he was going for staccato moments or a fluid motion, and that inconsistency carried through his work with the lifts. There were moments this was lyrical and lovely, but they were not throughout. The judges, though, had nothing but praise for his performance.
Judges Scores: 8, 8, 9, 9
Jordin Sparks & Brandon Armstrong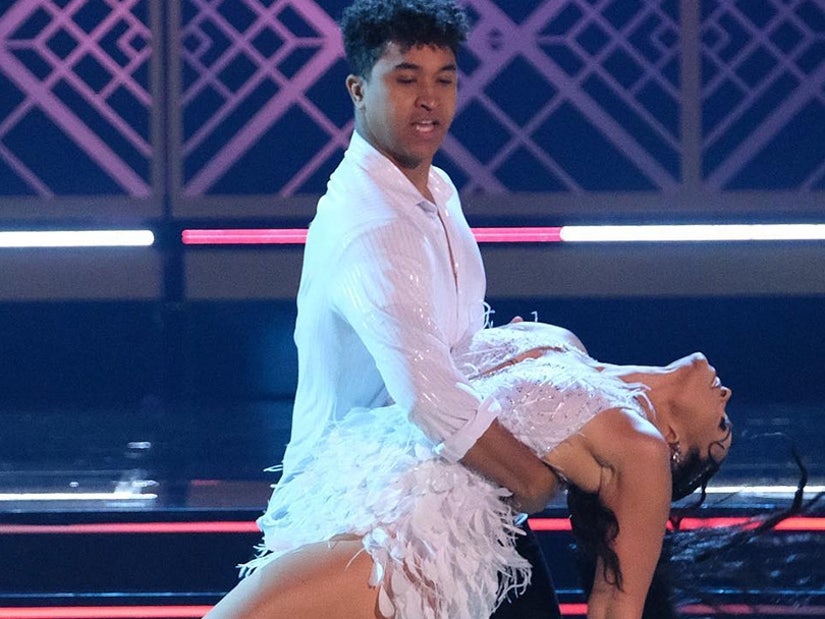 Disney+
(Salsa - "Let's Get Married," Jagged Edge) You might think the year she won "American Idol" would be Jordin's most memorable, but she gave it to 2017, the year she met husband Dana, instead. She said that before that she was emotionally scarred from the previous year and very public relationships. This one came into her life when neither were looking. Their moms connected them so Jordin could offer him some advice about the biz, and instead they wound up married with a kid -- well, she may have given the advice, too.
What an upbeat and fun routine, filled with lots of pep and movement, but not a lot of recognizable salsa. Jordin was all over that stage, showing more confidence and stamina than we've seen from her consistently before tonight. She had sexy sass for days in a very complicated routine that had no breaks in the choreography and a lot of shifts and changes. Carrie Ann was right, though, in that she is fully committed to those limbs involved in the movement, but when an arm is not, it sometimes flails a bit. It's important that the entire body is engaged, even if passively.
Judges Scores: 8, 8, 8, 9
Charli D'Amelio & Mark Ballas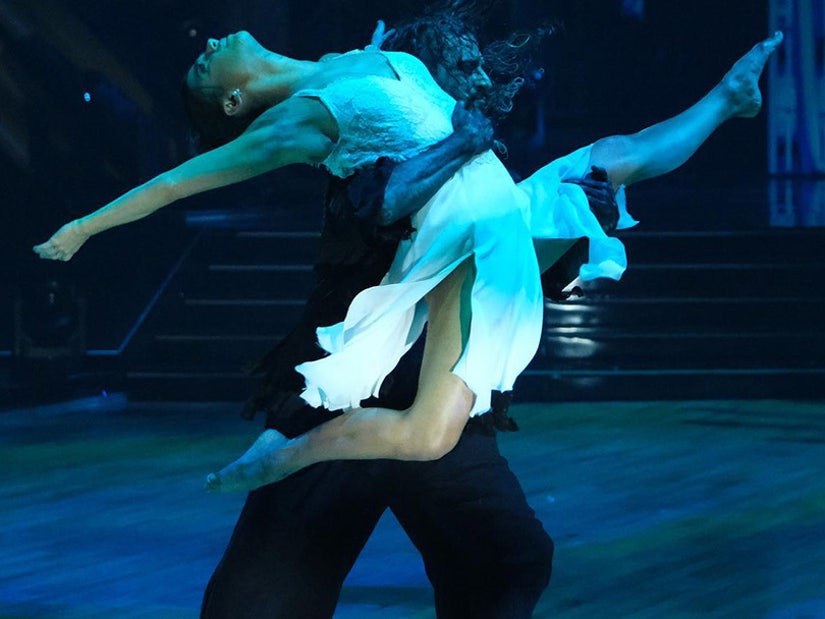 Disney+
(Contemporary - "when the party's over," Billie EIlish) After a few years that have been "crazy," as Charlie put it, she pegged this year as her most memorable. Becoming a TikTok star at such a young age may have exaggerated what so many teens go through, fretting constantly about what others think of them. Amplify that to millions of followers and it's easy to understand why her anxiety struggles reached a crescendo, sending her to therapy. She said that this is the first time she feels that outside expectations aren't controlling her.
For this piece, Mark represented the anxiety with Charli portraying herself. This piece demanded a full emotional performance from Charli and she gave everything she had. It was outstanding and so palpable. Can we talk about a jump from flat on the back landing again flat on the back. It doesn't matter Mark helped with the lift, that was an incredible feat of strength, and such a powerful moment in a piece filled with them. Charli said this was in her wheelhouse. It also now stands as one of the most impactful pieces ever done on this stage, performed to perfection by both parties (Mark was terrifying in his role, too). Final note is the paint that Mark's hands left on Charli as they danced only added to the emotional pull of the piece. We love that extra layer of artistry in the piece; it was all so well conceived.
Judges Scores: 10, 9, 10, 10
Vinny Guadagnino & Koko Iwasaki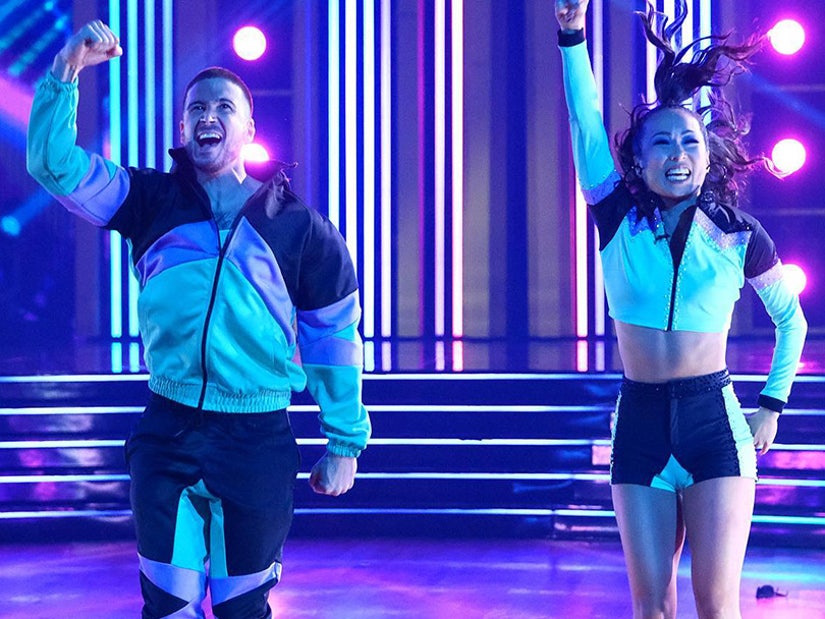 Disney+
(Jazz - "Levels," Avicii) Vinny's most memorable year was a pretty obvious one, as his entire life changed in 2009 with the launch of "Jersey Shore." He went from delivering pizzas fresh out of college during the first few weeks the show aired to one of the most well-known and biggest celebrities on the planet. "JS" was one of those rare moments that hit the cultural zeitgeist, and all these years later, it still has punch.
Since the "Shore" is all about fist-pumpking, Vinny chose a banger for this jazz piece. It was a fun piece that didn't ask too much of Vinny. But what was asked, he performed with great intention and attack, as Len would put it. His hands were definitely better this week, though we did get the airplane wing at one point, but his toes needed a little more point and grace in that leap. We loved that it had the vibe of a club banger and that Vinny was all in with it. We can see the improvement from the first weeks of the competition, so his turning point last week is sticking.
Judges Scores: 8, 8, 8, 8
Heidi D'Amelio & Artem Chigvintsev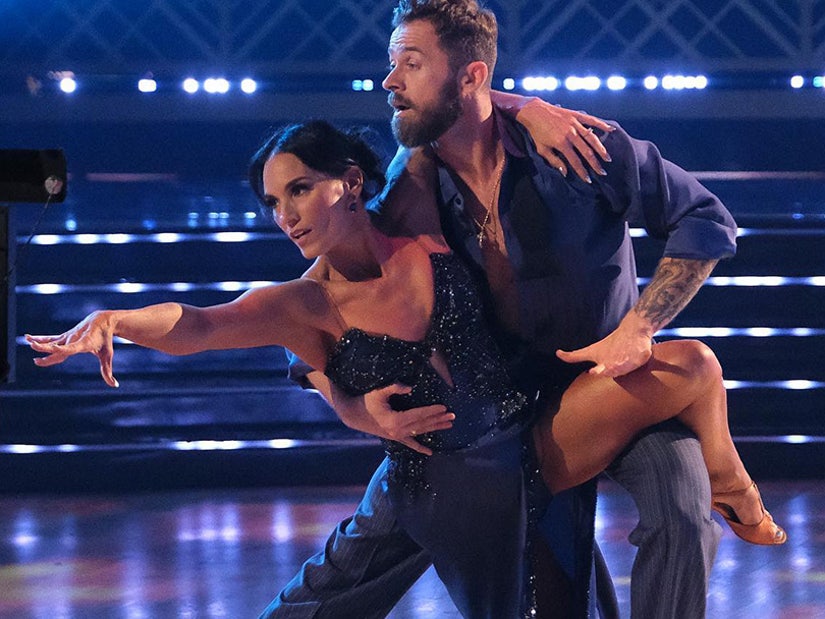 Disney+
(Rumba - "Can't Take My Eyes Off of You," Frankie Valli [as performed by Lauryn Hill]) Heidi's most memorable year was 1997 when she moved to New York City at 25 to try and make it as a model because she didn't want to have any regrets later in life. That was also the year she met the man who would become her husband, landed her first runway job and really took control of her own life and direction.
The dance itself looked effortless, with Artem leading Heidi throughout with such precision. She had wonderful fluidity in her movement, though we'd have liked a bit more hips in the side-by-side portions to match Artem's intensive shimmy capabilities. Outside of that, though, both of them captured the romance like this was something we'd see in a Hollywood film from the early Twentieth Century.
Judges Scores: 9, 9, 9, 9
Wayne Brady & Witney Carson
Disney+
(Foxtrot - "Beautiful," Jim Brickman f. Wayne Brady) 2003 was Wayne's most memorable year as that was the year his daughter Maile was born. He said that up until that point, his focus had been on himself and his path, but Maile changed all of that. For 19 years, he's committed himself to being there for his daughter as she became the woman she is today. He shared the cute story that his daughter thought the song was for her until she saw it with the film, but he assured her he was singing it to her.
As always, Wayne can be counted on for beautiful lines that seem to go on forever. He paints pictures as he glides cascading one stunning moment into the next. This piece never stopped moving and we couldn't stop watching as every movement carried us along on this journey of love. The emotion within Wayne was palpable and it came across in the beauty of his physical expression.
Judges Scores: 9, 9, 9, 10
Selma Blair & Sasha Farber
(Waltz - "What the World Needs Now Is Love," Jackie DeShannon [as performed by Dionne Warwick]) For Selma, the year she was diagnosed with MS was her most memorable. She was sick for so many years before 2018 with no idea how to help herself and felt like she was failing as a mom because she couldn't do the things everyone around her was doing. The diagnosis was a turning point for her as a person as it provided answers and a path forward.
Now, she revealed to Sasha that based on recent test results with her doctors, she has to step away from the competition. She said she's dealing with rips and tears and bone trauma after what she's done so far in the competition. Her wish was to have one final dance with Sasha and bow out of the competition gracefully.
We love that she didn't just go out with a nothing type of dance, but rather one that still required frame and footwork and she even managed a turning lift. All of these things were quite elegant and lovely. Her footwork wasn't precise at all times, but this wasn't for judging. This was for sharing her story and giving everyone permission to know when it's time to say that it's enough, it's okay to slow down or stop.
Judges Scores: 10, 10, 10, 10 (Symbolic and with Love)
My Score: Beautiful and with Such Class
With Selma Blair bowing out of the competition, there was no elimination tonight. That means the judges' scores and viewer votes from tonight's episode carry into Tuesday night's show and will be combined to eliminate. Originally, this was to be a double-elimination week, so does that mean only one person will leave the competition? We'll have to wait and see.
We understand that the perfect score for Selma was symbolic and more in line with her commitment to this show, and more importantly, her commitment to knowing when to say when. Life is meant to be lived, but it's just as important that it be lived responsibly so you can get as many quality years as possible.
Her very presence on the show was such a palpable reminder for those with chronic illnesses and chronic pain that you needn't let these things hinder your ability to do all the things you want to do. You need to keep yourself in check, but don't allow a diagnosis to shut you down completely. You only get one shot at this life, so chase whatever dreams are still within your reach -- and maybe try reaching just a bit further, too.
There was definitely a lot of love in the ballroom as Selma got beautiful sentiments from the judges, then from Alfonso up in the skybox before that symbolic perfect score, and finally when she was embraced by her son and flanked by the final cast for her final moments on the show. She even got hoisted on Emma Slater's shoulder for a bit.
It was truly an iconic farewell for a dancer who moved us emotionally every week. She brought tears because of her story and the strength and conviction it took just for her to be here. But she also brought them because of the quality of her movement. She put in the work and she really was stepping up just as hard as anyone else in this competition. That heart will definitely be missed.
The two-night "Dancing with the Stars" story week even continues with "Prom Night" on Tuesday at 8 p.m. ET on Disney+, before the show returns to its regular Mondays at 8 p.m. ET time slot.