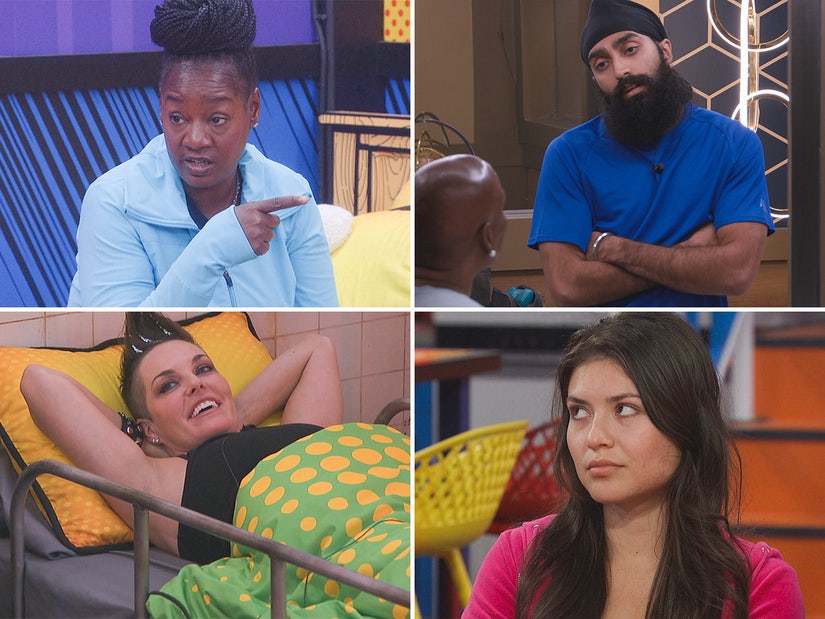 CBS
With America and Blue on the block and both convinced the other is the target on Big Brother, the Power of Veto is the real determiner -- plus, an epic betrayal based on false information could change everything.
With only seven Houseguests left on Big Brother, you'd think there would be less drama, but that's definitely not proving the case. With back-to-back Head of Household reins, Jag is poised to finish taking out Comerica -- or is he?
The Power of Veto is the real decider at this stage of the game. As seen last week, it can change everything in a heartbeat. After Blue won one of two POVs, Jag had to rethink his whole week's strategy, which was to target her.
As he held the other Veto, he suddenly had an opportunity to backdoor an entire showmance at once by putting Cory and America on the Block. That blindside worked beautifully last week. Could such an opportunity arise again this week?
Each episode, we'll break down the night's action, the competitions, the alliances, the backstabbing and the lies. Then we'll grade each contestant to see how they're doing in the game so far and how far we think they're going to go.
Now, Jag and Matt are the only legitimate duo left in the House. America is alone, Blue is alone, Bowie remains largely clueless, and Cirie and Felicia are like those two neighbors who've tolerated each other for decades and begrudgingly would call one another friends, but not every day.
With Jag in power, Matt's position is secure, which leaves Jag with an opportunity to continue the work that's positioned him as someone who'd just won four competitions in a row. All season long, these Houseguests have been taking out strong competitors.
Once Jag and Matt solidified their Minutemen alliance, they went in hard on that work, taking out any threat to their own competition prowess. Well, that has turned into Jag's competition prowess. Taking out Cameron was the last major hurdle to total dominance.
Cory was more of a strategic threat and s--t-disturber in the house. In actuality, despite the fact she's not done much at all in this game, Blue remains one of the biggest competition threats left. Yes, she's only one one competition (and that was basically a guess last week), she has come close to winning time and again.
Jag set a record for hanging on during the last Veto competition and he only set that record because that's the time Blue fell. So she also hung on longer than anyone else in BB history. She's a legitimate threat to win competitions.
She's also incredibly, amazingly, blindly loyal to Jag who has only been loyal to Matt this whole game. Yes, they had an early friendship, but there is no secret that he and Matt are a power duo. Jag's dominance these past few weeks are probably the only reason they're still intact.
Their path to the finals is looking pretty secure as Jag keeps proving over and over again that he's good at mental and physical comps -- and consistently beats out the weaker competitors they've left in the game to compete against.
This week's Veto competition was the classic BB comp with silly photos of past Houseguests that have to be placed in sequential order. It's the small details that change from pic to pic that determine what that order is.
Hilariously, only one person in the house would not play in this week's Veto competition ... and it was Cirie ... again! Her chip has never been drawn to play for Veto this entire season. Blue even stuck her hand in to grab the last chip to verify Cirie even had one. That has to be a record, right?
Speaking of records, this one came down to less than two minutes. As has happened all season, we only got the scores for the top three times. Mama Felicia was definitely not one of them, with her fumbling around to comical music long enough she had to have timed out.
Bowie Jane came in third. She's another who's proven competent at competitions, but never quite enough to surpass Jag. She did, however, pass Matt, who even acknowledged this week that he's not been pulling his weight in the Minutemen.
Honestly, his best shot at winning now would be taking Jag out. Yes, it would be an epic betrayal, but Jag has been carrying him all season long strategically and competition-wise, so if they sit Final 2 together, Matt would be able to thank Jag for carrying him to second place.
Speaking of second, Blue once again proved why she is a legitimate threat, coming in just behind -- Jag. That's right, Jag scored his fifth win in a row (thanks to the Invisible HOH allowing him to play in back-to-back HOH comps) and third Veto in a row. He now has seven wins in a single season, putting him in rarefied company and only two off the all-time record holder, Janelle Pierzina.
Let's pause for a moment and take stock of the house and the relationships within it. Matt and jag are the obvious place to start, as they remain tight and committed to going to the end with the other. It's beyond that twosome that things get murky -- and got even murkier this week.
Matt has a lot of trust in Cirie. We got a vignette of the tightness of their bond in the house, and it's really sweet to see. The problem is that Jag has never been quite as sure he could trust Cirie. Nevertheless, he did this week, over Mama Fe.
Felicia has a reputation for blathering secrets around the house and Cirie does not. So Jag did not tell Felicia that Blue was his real target, but he clued in Cirie. This is where a game of telephone can get you into trouble.
Honoring the trust she has with Jag, Cirie did not tell Blue that she was the target. But, as Blue is someone she feels close with, she did strongly hint at it to Blue -- who remained impressively oblivious and doubtful that Jag would ever target her!
Cirie's fatal mistake came when she forgot about he Fe has done her dirty a few times already this season, and how Fe likes to blabber. She hinted also to Felicia that she worried Blue might be the target and told Blue as much.
Now, nowhere in this did Cirie say that she knew Blue was the target, but when the story made it's way back to Jag by way of Felicia unceremoniously throwing Cirie under the bus, the version now made it sound like Cirie just told Blue she was the target. Period and end of discussion.
That left Jag convinced that Cirie had betrayed his trust. It's not entirely true, though Cirie did try her best to clue in who she thought was her allies to the truth. If she couldn't make a change to Blue's fate, maybe it would have been better to not say anything, but she was hoping Blue could win Veto and save herself again.
Poor Blue has no clue that her fate is likely sealed. Jag considered using the Power of Veto to perhaps backdoor Cirie, but that was probably only for fake BB drama. He's too smart to focus on someone he's confident he can beat to someone who's been hot on his heels the past two competitions.
America's position in the house is an interesting one -- but only if she can actually win something. She's been as ineffective as Cirie, winning absolutely nothing all season long. She made a deal with Jag, though, where she said she wouldn't target or backdoor him or Matt next week.
Jag is also confident that despite what Fe told him, Cirie wouldn't come after them, either. The truth is, that both women would come after Jag, in particular, in a heartbeat. He'd better hope Matt or Bowie win HOH, otherwise he and Matt could both see the Block.
Jag could (and likely would) save himself with the Veto in that scenario, but it could cost him his closest ally and leave him more alone in the house. Wild things can happen during a double-eviction.
This week's seems poised to see a blindsided Blue evicted (unless they clue her in beforehand). From there, it could be anyone as it will all come down to who wins HOH and POV. We couldn't even say for sure who Matt and Jag would target.
Despite their loyalty to Bowie, with Blue gone, she's the next strongest competitor who stands the best chance of winning a competition. That makes her the one with the best chance of costing them the chance to sit together. It might be time to turn on her?
But that's only if they're truly going to run away with this season. The smart move for absolutely anyone else (including Bowie) would be to try and take Jag out, and failing that, get rid of Matt. But can they win enough of anything to do either?
Jag Bains (25, truck company owner) continues to dominate this endgame phase of the season. Five consecutive wins is absolutely incredible, but it also pains a massive target on his back. He's got the whole house believing they're good with him, but there are a lot of people also target him. The problem for them is they can't seem to win competitions. He's positioned right now to run away with it all. [Grade: A]
Matthew Klotz (27, deaflympics gold medalist) is in a great position to get carried to the end, but we think he'd have a hard time winning. Yes. he's beloved by every single person in the house, but it's going to be hard to convince anyone that he's actually played this game harder than Jag. His best hope of victory is someone else taking Jag out, since he would never do it. [Grade: B]
Cirie Fields (53, nurse) continues to hold a surprisingly strong spot, considering how little she's done since Izzy's eviction many, many moons ago. Now, she's got Felicia trying to throw her under the bus. But she's also got Matt and her own abilities with persuasion. She almost always finds a way to the end. Can she win? That would be hard to sell. But if anyone can do it, she can. [Grade: B-]
Felicia Cannon (63, real estate agent) is seen as volatile and unpredictable, but we also don't think anyone really wants to sit with her at the end. She's actually pretty persuasive herself and a good speaker. She's just not strong enough in competitions to control her own fate, and we suspect other HGs would be more wary of taking her than Cirie or even America. [Grade: C]
Bowie Jane Ball (46, barrister/DJ) is so blindly loyal to Jag and Matt at this point, she's a lamb being led to slaughter. They have deals with everyone (except America) to go to the end, but they're also actively targeting anyone who could threaten them in a competition. Bowie is in that group, so we suspect she'll go sooner than later if they maintain their stranglehold on the game. Her connection to them would probably be enough for others to get her out, if given the chance. [Grade: C-]
America Lopez (27, medical receptionist) is an easy eviction at any time, but is she perhaps too easy? Without Cory, what threat is she, really? As a duo, they were dangerous. As an island who's never won anything, who's afraid of her? Now, she's very willing to lie (as she did to and about Mama Fe in front of the whole house) and will take big shots -- but will she ever position herself to get that chance? [Grade: D]
Blue Kim (25, brand strategist) is a non-winning competition beast, proven time and time again. She's also loyal to a fault and continuously falls for people sweet-talking her and stroking her ego. She is eating out of Jag's hands these past two weeks as he's masterfully handled her. Now he's handling her right out the door to meet Julie, and we don't see a house flip saving her. [Grade: D-]
"I have to gun it for this Veto like my life depended on it." --Blue (in DR and it very well might)
"No matter what I said to Jag, if I stay this week, I am definitely coming after him and Matt the second I get a chance." --America (in DR after nominations)
"We should have a relatively quiet week." --Felicia (to Jag)
"For Mama Fe, I told her that America's the target. Honestly, though, for us, Blue has shown over and over that she's a better competitor. So Blue's gotta go." --Jag (to Cirie)
"Matt trusts her and I trust Matt." --Jag (about telling Cirie his real plan)
"You gonna go after one of your best friends in the game, why would you not go after me? Just shows why Jag's so dangerous." --Cirie (in DR about Jag targeting Blue)
"It's just gonna be another week of me lying to Blue and hiding my true intentions." --Jag (in DR)
"Hold on, let's check it. There is a 'Cirie.'" --Blue (checking if Cirie's chip exists -- she's never been picked to play in the Veto)
"I'm just concerned about today. I want you to win it so bad. I just want to feel sure." --Cirie (hinting to Blue she's in danger)
"Blue is under the Jag spell … I don't know why no one else can see it. Jag is the most dangerous player in this house." --Cirie (in DR)
"The chefs have arrived." --Matt (as he and Jag arrive in aprons with no shirts to barbecue)
"This is my gut. I think they really are gonna take America out this week." --Felicia (to Cirie)
"It makes no sense to have Blue on the block right now. Zero. Zero. Unless they want Blue out." --Cirie (hinting to Felicia that Blue is the target)
"If Blue don't win that Veto, her ass is out of here. Watch." --Cirie (to Felicia)
"We are in a Final Four with these guys. We are in a great spot. Let's just chill." --Felicia (in DR, doesn't care that Blue might be the target)
"So I just want to say this. I'm watching the door. I know I can trust you with this info I'm about to give you. You know I been trying to roll with Cirie from the beginning, but she's paranoid. Like, for some reason, she thinks that your real target is Blue. And so she told Blue that [she's your] real target." --Felicia (to Jag)
"I know I'm the pawn, but we're so close to the end of the game, I'm not taking any chances." --Blue (in DR)
"If the plan is actually to blindside me and take me out this week, Imma look stupid right now." --Blue (in DR … ummmm)
Big Brother drops a double eviction Thursday at 9pm ET, then continues Sunday at 10pm ET and Tuesday at 8pm ET on CBS.