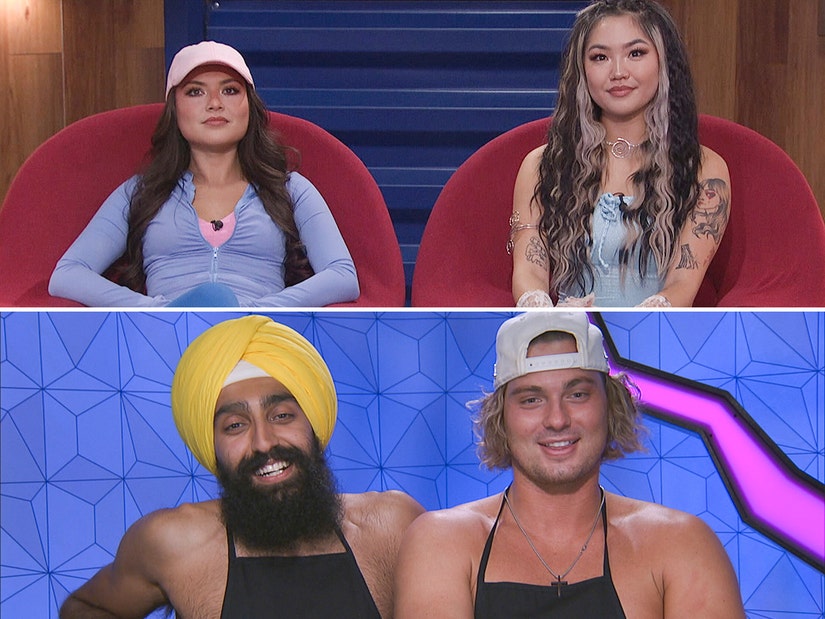 CBS
Blue and America head into Big Brother's double eviction believing both are the pawn, so who got the first blindside of the night? -- and who followed them right out the door and into the jury house?
For the second time this season, it's Double Eviction Night (Baby) on Big Brother 25 ... and this time there are no zombie resurrections around the corner. By the end of this live episode, two Houseguests would join the jury and the Final Five would stand revealed.
Right off the bat, there was potential fireworks as both of the first set of nominees, America and Blue, were convinced they were the pawn and the other the target. The truth was that Blue had been Head of Household Jag's target all along.
It's understandable as she'd been coming in just behind him in recent competitions -- and even performing better than his Minutemen ally Matt. After Jag confided in Cirie that Blue was his real target, she tried to drop hints to Blue, but her future daughter-in-law (joking) wasn't hearing it.
That blind loyalty to Matt and Jag led to an epic blindside as Blue became the first evictee of the night and the third member of the jury. As Julie shared, though, she was given a heads up just before the show went live, so she went out strutting and performing for ... honestly, we don't know anymore with Blue.
That eviction set the stage for the biggest opportunity of the night as Jag was not eligible to play for Head of Household, so it was actually possible to ensure either him or Matt went home after Blue. All that needed to happen was for someone else to win and nominate them both.
Someone else winning is the problem, though, as Felicia won one HOH way back in Week 3 and Bowie reluctantly won one when it was thrown to her. As for America and Cirie, they've basically done nothing all season, with a combined zero wins between them.
Also a wrinkle was that for some reason, not everyone in the house was ready to gun for the power duo that have dominated the past several weeks of the game. Like Blue was, Bowie Jane remains fully committed to the pair. And while Cirie seemed ready to take a shot at Jag, Felicia was taking shots at her to Jag.
We'd seen Felicia throwing Cirie under the bus in the last episode, and she was at it again, actually waking the HOH up to drop the latest kernel of gossip she knew. In this case, it was Matt and Cirie contemplating when to take their shot at Jag.
Big Brother played it out for us backwards, first showing us Felicia's conversation with Jag. They then jumped to the previous night where Cirie filled Felicia in -- she still doesn't know Mama Fe keeps selling her out.
From there, we jumped back again to the actual conversation where Matt did acknowledge that he might have to take a shot at Jag before the end, knowing his seven comp wins and overall dominance are going to be hard to beat with any jury.
So, Felicia wasn't lying to Jag in what she said, but it was murky enough that there was plenty of wiggle room for both Matt and Cirie. Jag doesn't necessarily trust Cirie -- which is the right way to feel as she's expressed privately she'd take him out in a heartbeat (if she could win anything) -- but he does trust his ally.
As such, while the stage was set to take Jag out, it seemed like only America or Cirie might have the nerve to take that shot. And they'd have to get through the Veto competition, too, and Jag has won the last three of those!
To keep things moving, the Head of Household competition was a memory game featuring three different BB movie posters in each round. Houseguests had to then answer a question about the details of those posters.
The highest points after seven rounds would win, which is why things were looking pretty wild after Round 2 when Cirie took the lead and held onto it for a while. But, in Round 6, she fell into a tie with Matt and Bowie.
Without her necessarily knowing it, this was her worst-case scenario. Bowie is so deep in the pockets of Matt and Jag she can taste the lint. In fact, allowing her to win this competition might just be best-case for them as she'll do whatever they want, and then they're both eligible to play next week.
Cirie faltered again in the final round, handing the tiebreaker to Matt and Bowie. In that moment, the Minutemen's safety seemed completely assured. Matt overshot his guess -- on purpose? -- and Bowie took the win.
She quickly threw America right back up on the Block with Mana Felicia landing next to her for her sixth nomination of the season. And more than likely, she'd be poised to survive this one, too. Despite America being useless in competitions (both tied for last in this one), she's been publicly saying she'd take the shot against Matt and Jag.
With those nominations, there was only one sliver of hope left that Jag or Matt could get backdoored out of this game ... and that sliver lied with Cirie. If Cirie won Veto and saved Felicia or America, Bowie would have no choice but to nominate one of the Minutemen and then the house could take care of the rest.
But that required Cirie to win anything. And as close as she'd just come, she'd still come up just short. Could she pull it off this time?
The competition was physical (uh-oh) and required the Houseguests to find colored balls in a ball pit and then drop them from a platform into a tube. It took a precision drop, though, as the balls were almost the same size as the tubes.
As it went along, we started to wonder how much they'd tested the competition as it seemed no one was getting the drop lined up just right. Even Jag, the Veto king, was bouncing off the edges of the tube.
But Matt showed precision and slowly but surely started hitting his mark. A few other Houseguests landed some as well, but in the end, the worst-case scenario for anyone not named Matt and Jag happened: one of them won.
The fact that Jag was actually terrible at this showed that he can be beat. But he very smartly eliminated anyone not working with him capable of beating him so that when the strongest competitors win, like Bowie and Matt, they're still protecting him.
With Matt's win, it felt inevitable that nothing would change and America would go out the door. It's not the most exciting outcome as she's been just about completely ineffective in the game, and even more since Cory left as he'd done most of the dirty work for their showmance.
America's biggest gift in the house was her bold willingness to blatantly and openly lie, and we saw that again as she quickly told Matt that Bowie and Cirie (of all people) had some kind of deal. We get that she was desperate and scrambling, but that one was a pretty terrible lie.
It didn't save her, either, as Matt kept the nominations the same and America followed Blue right out the door. She even had her bag already packed from the night's first eviction, making it a clean sweep for the house, if a not-necessarily-exciting episode.
Rather than an epic blindside or shocking twist, Matt and Jag smoothed their path to victory. There are five people left in the house and they have deals with all of them to make it to the end. If they (or Bowie) rise to power, they'll have to finally show their cards and pick an actual Final Four.
Felicia has been lobbying hard to get CIrie knocked out, but it could be anyone because Jag and Matt are confident that they can beat anyone when it comes to the three women they're left in the house. It's pretty hard to argue, but can the women come together to realize they're fighting for second at best, and more likely third?
And if they do come together with this realization, can they do anything about it? Matt and Jag have systematically eliminated everyone who stood the best chance of beating them in competitions. As we said, their road to the finale looks paved in gold. All they have to do is walk it.
Jag Bains (25, truck company owner) could not have done more and could not be better positioned to win this game. If he does, it will go down as one of the most masterful takedowns in the history of the game, as he took control, eliminated all threats and then kept everyone he needed close to him with a strong social game and the right lies at the right time. [Grade: A+]
Matthew Klotz (27, deaflympics gold medalist) is Jag's biggest threat just as loyalty to him may be Jag's biggest downfall. Matt has played a quietly dominant game, he's never been nominated, and even now it seems no one is really looking to take him out because Jag is the perfect shield. If he gets the chance and takes a shot at his ally, he could secure his own win -- because we're not sure he can beat Jag, either. [Grade: B-]
Cirie Fields (53, nurse) has been playing a pretty incredible and hardworking game that looks like floating since her power alliance left. She controlled the early game and now her ability to lie and strategize with master thespian-level skills has kept people from fully realizing she can't be trusted. If she could win anything, she'd be dominating because she's that good at everything else Her uselessness in comps, though, is part of why no one has taken a shot at her. The problem is she still needs to hope others will do her bidding for her, and that's a big gamble at this stage. [Grade: C]
Felicia Cannon (63, real estate agent) is playing a strategic game, but it's a little bit sloppy. She's throwing everyone under the bus and trying to cozy up to Jag, but he's not going to take her over anyone else in the house. Felicia is weaponizing truth, but it doesn't hold up well against master liars. And if she's unwilling to take a shot at Jag, she's got no shot at winning. [Grade: D+]
Bowie Jane Ball (46, barrister/DJ) is the biggest comp threat left in the house. Now that she's actually won a couple of comps (dubious though they may be), her usefulness might be coming to an end. She's got no shot at winning with the jury after doing nothing most of the season, and she doesn't even seem particularly well-liked. Could that be reason to take her to the end? Probably not for anyone left in the House. [Grade: D]
America Lopez (27, medical receptionist) never had any ability to control her own fate in the game, and as soon as she lost Cory, she was at the mercy of an entire house she'd been burning week after week. She even lost her s--t on Jag when she got nominated, like it was personal, despite saying proudly in the Diary Room she was going to take him out. She was ruthless, but not savvy or clever or capable enough to accomplish anything with it. [Grade: F]
Blue Kim (25, brand strategist) was a legitimate threat to Matt and Jag's game. She was going to come after them sooner or later and of the people left in the house, she was the one who stood the best chance of pulling off the right win and taking those shots. She was so close to winning so many competitions, and ultimately that proved her downfall. [Grade: F]
"If I'm still here next week and I win HOH, Matt and Jag, the American Revolution is coming." --America (in DR after nominations)
"We don't get no blood on our hands for jury management." --Cirie (suggesting a split vote to Felicia forcing Jag to vote out Blue)
"I don't know if I want to go against Jag. I don't know if it does anything for me." --Felicia (in DR)
"So Cirie tells me last night that her and Matt were talking and they're trying to think of when is the best time for them to take you out. When I tell you the whole house is coming after you, I'm serious about that." --Felicia (to Jag)
"Why would Matt say that to Cirie?" --Jag
"Maybe Matt's afraid to sit next to you in the final because he's afraid he won't win." --Felicia
"Matt today was like, 'I know at some point Jag gotta go.'" --Cirie (to Felicia the night before)
"I think the good thing for you is that right now everyone sees Jag as a bigger target than you. So God forbid, if something goes wrong the target won't be you." --Cirie (to Matt even earlier)
"I think I know if it's me and Jag. I think you guys probably save me over Jag." --Matt
"Yeah, of course." --Cirie
"Because he's got a lot of wins." --Matt
"It's gonna be hard to talk that down." --Cirie
"At the end of the day, I know I'm gonna have to take a shot at Jag." --Matt (suggesting at Final 4)
"Houseguests, show of hands, how many of you have been personally victimized by the Jag-man? … Please keep me here. I will not rest until we are all free from Jag's evil wrath." --America (in save-me speech)
"America, with all your lies and speculation, there is one thing you'll never take away from me. I'm Team Brunette all the way." --Blue (in save-me speech)
"Jag, just forget my last speech. You are not evil." --America (in second save-me speech)
"I had all of my stuff packed already." --America (leaving)
"They're gonna win, I'm just so mad. Everyone's letting them slide through." --America (to Julie about Matt and Jag)
"What are your hopes for the relationship after Big Brother is over? --Julie
"Marriage! -- I'm kidding." --America
Big Brother continues Sunday at 10pm ET, Tuesday at 8pm ET, and Thursday at 9pm ET on CBS.