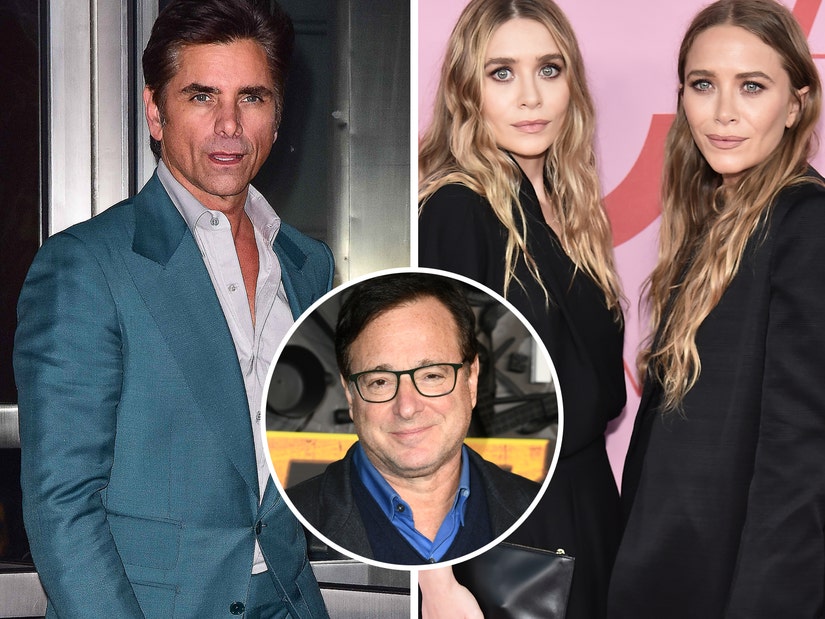 Getty
"Everybody just needed to hear that," he said of Mary-Kate and Ashley Olsen's heartfelt message.
During an appearance on Tuesday's episode of The Howard Stern Show, the actor -- who was promoting his memoir If You Would Have Told Me -- revealed the heartfelt message the Olsen twins shared with himself -- and their fellow castmembers -- at Saget's funeral.
"They came to Bob's funeral, and it was so beautiful. We all needed it," Stamos, 60, recalled. "They got us all together and said, 'We love you. We loved our childhood. We're grateful for you guys. We thank you for making those eight years so beautiful for us. We have such fond memories. We love you.'"
"Everybody just needed to hear that, and I think it Bob doing it, you know," he added.
Saget passed away on January 9, 2022, at the age of 65, and was laid to rest later that month.
Mary-Kate and Ashley Olsen, of course, starred as Michelle Tanner on all eight seasons of Full House, which aired from 1987 to 1996.
While most of the original cast returned for the Netflix revival -- which ran from 2016 to 2022 -- the Olsen twins were notably absent.
When Stern asked Stamos why he believed Mary-Kate and Ashley decided against returning for the sequel series, Stamos said, "It was a messy time for the show. I was upset at first -- and it kind of got out -- and I was only upset because I just thought it would be nice [to have them in it]. I produced it. We came up with an idea and everything."
"But they just didn't -- they weren't acting, and I don't a real offer came through. And Lori Loughlin said to me, 'You know, they just two CFDA awards. That's like winning Oscars. They don't want to come do this.' I said, 'Okay, I get it. I get it.'"
Stamos opened up about his relationship with the Olsen twins in his memoir.
See more revelations from Stamos' memoir, If You Would Have Told Me, below.
If You Would Have Told Me is out now.