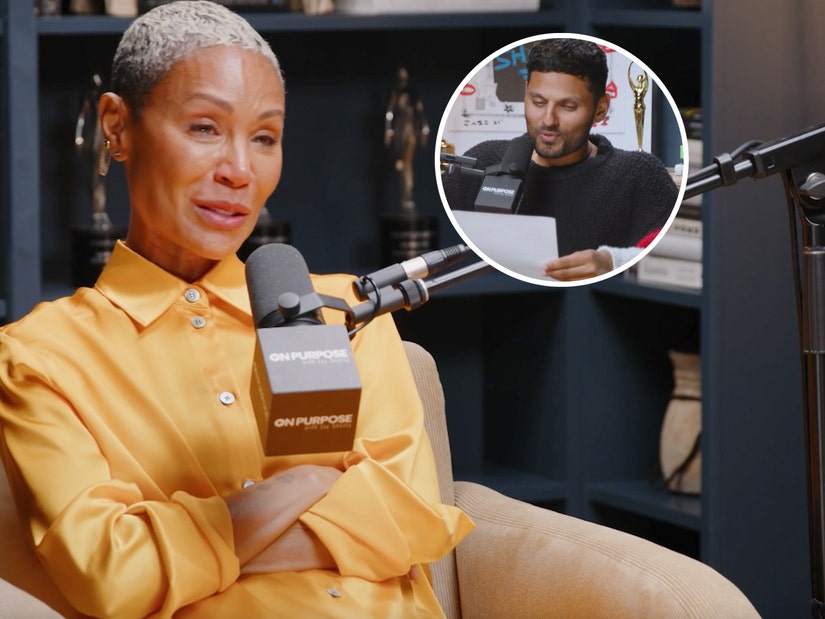 On Purpose with Jay Shetty
"If I had read this book 30 years ago, I definitely would have hugged you more," Will wrote in his letter, which was read to Jada by Jay Shetty in a surprise interview moment.
Jada Pinkett Smith was brought to tears after Jay Shetty surprised her by reading two letters of support from husband Will Smith and daughter Willow during an appearance on the lifestyle guru's podcast.
Appearing on the latest episode of On Purpose with Jay Shetty, Pinkett Smith continued to promote her new book, in which she details her marriage struggles with Will, her battle with mental health and how she came to a place of finally feeling "Worthy," which is also the title of the memoir.
During their conversation, Shetty pulled out two letters from Jada's family members, who sent them in to the host and longtime family friend after learning she'd be on his podcast. "I was happy that he was able to send this to me and so I could share it with you," said Shetty, before reading the one from Will.
"I just turned the final page of Worthy and damn," it began. "It is amazing to realize that despite having lived most of my life by your side, I still found myself shocked and stunned and caught off guard, laughing, then inspired, then heartbroken. I was all over the place."
"It's one thing to hear anecdotes at a family barbecue, but it was truly overwhelming to take in your story, potently condensed in this way," Will's letter continued.
"You are one of one, a rare blend of power and delicate sensitivity. I know it wasn't easy to excavate the depths in that way. I applaud and honor you," he wrote, before ending with a statement that clearly made Jada emotional. "If I had read this book 30 years ago, I definitely would have hugged you more. I'll start now. Welcome to the Authors Club. I love you endlessly. Now go get some Merlot and take a rest."
Laughing through teary eyes, Jada quipped, "He knows I can't have no Merlot. That's beautiful. That's why I can't divorce that joker."
Referring to his message about regretting not hugging her more, Jada opened up about how the book made her realize their differing perspectives.
"When we got married, Will had to be 28, 29. We had such different needs. No right or wrong, you know. Will was very driven. But I got married because I was pregnant and I wanted a family and that I must say that was the one thing, we both wanted to create a family we never had," she explained. "But what we thought took having a healthy family, Will believed, 'Man, as long as I get out here, make money get the biggest house, make sure you guys don't need anything, that's how you have a great family.' And my thing was like, 'No, but love and, you know, me and you,' everything was centered around feelings."
"We just couldn't find agreement because we thought we had two different goals around what it took," she shared. "And so, to hear him say that he would have hugged me more is me hearing him say he would have taken a bit more time to listen and understand."
In the book, Worthy, Jada revealed she and Will reached a state of "irreconcilable differences" in their marriage in 2016, but were steadfast in their promise to one another before they married that they would never get divorced. Eventually, she moved in with her mother for about a year, before buying her own home as a 50th birthday gift to herself.
Of those separate living conditions, Pinkett Smith told TooFab, "We still share a family home. But I still have my little house where I have me time. I don't know how long that is going to last, to be honest with you. I think that time is kind of dwindling. To be honest with you, so I'm just enjoying the moments that I have left within my little sanctuary, but I do think that will be coming to an end."
During the interview with Shetty, he also read a letter penned by Jada's daughter Willow.
"Mom, I am incomprehensibly proud of you and all of the inner excavation you have done during the writing of your book," she wrote. "There were many times during the process where you would read me sections and deep emotions would come up for us both. Learning from you, through learning about you, is one of the biggest joys of my life."
"You never cease to inspire me with how wide you've opened your heart, not only to the immense joys of life, but also to the deep uncertainties and shadows with equal gratitude and grace," she continued. "You have shown me true tenderness and true strength come from the same place within, and that is something that I aspire to show others."
"Thank you for loving me. I'm so grateful for you," Willow concluded, as Jada referred to her as her "little guru."
See all of TooFab's coverage on Jada's memoir, including interviews with Pinkett Smith herself, below: